Some business and a lot of pleasure took us back to 'the smoke' for a few days but it turns out we were missed at the Mount, as on our return our neighbours declared it was good to see us back! After just a few days in London, where we were insignificant specks in the crowd, being noticed felt good.
The lure of the capital city is undeniable though, and this trip was a series of 'contrasting firsts', beginning with the biggest two-day exhibition for anyone in the geospatial industry and culminating with an item on my bucket list – seeing the Rolling Stones concert at London Stadium in the Olympic Park. More of that later.
Although Tim is a GEOBusiness veteran this was the first year I'd been available to attend and it was good to catch up with so many of Tim's old colleagues and business associates who were keen to hear about our Dubai experience first-hand.
With a little research it's possible to enjoy a some of what London has to offer for no cost. One of the best free experiences in the city is the Sky Garden. With GEOBusiness showcasing the role of geospatial professionals in shaping modern cities, a trip to the 35th floor of the 'walkie talkie' building was very much in order. The building in Fenchurch Street offers access to London's highest public garden and 360° views across the city from the observation decks.

It's necessary to book ahead for access tickets but we got very lucky on the day and managed to bag a couple, thanks to a cancellation.
After you've gawped at the stunning views, you can stroll through landscaped terraces of abundant and lush flowering plants, ferns, grasses and herbs. By then you will be suitably charmed and ready to empty your wallet at one of several bars and restaurants! It feels kind of rude not to, so a couple of non-alcoholic cocktails, (the day was young!) and a packet of crisps later, (we know how to live it up) and we had waived goodbye to the best part of £20. A snip compared to anything similar in Dubai where they know a thing or two about iconic skyscrapers and getting people to part with wads of cash to see them.
The evening before we'd had an excellent dinner in Islington, with friends who live in the area. They introduced us to La Petite Auberge, a French bistro and one of their favourites amongst many in Upper Street.

This was Boeuf Bourguignon heaven – melt in the mouth, slow food, with an unctuous wine sauce and pile of fluffy mash to soak it up. Even a humble chicken breast, generously stuffed with spinach and ricotta cheese was elevated with a creamy sauce, richly flavoured with earthy mushrooms and chicken juices. Every ingredient tasted as if the maximum flavour had been squeezed out of it before chef added the obligatory half a pound of butter. It's no mystery why French food tastes so good! Butter, cream and salt! But wait, that other naughty but nice indulgence – sugar! It's not often that a traditional menu item makes me rethink a dish I know and love. Crème Brûlée with banana? A crust of shiny brown caramel clinging to slices of banana atop a velvety, just set custard. Genius. That's the sort of dessert I dream about. The 'plain' version just won't cut it for me now.
From the best dessert in the world to a bit of flop. A restaurant with the heritage of the German Gymnasium should be able to produce the ultimate Black Forest Gateau but someone here has got the recipe badly wrong. So much cream I wondered if this was chef's White Forest Gateau joke. Not nearly enough chocolate in the sponge and the essential juicy cherry content squashed into a peculiar hard base. The whole thing drenched in Amaretto, so a stridently almond flavour is all you get. Weird.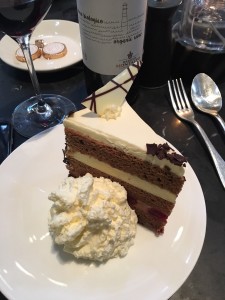 For those who care about these things THE BEST Black Forest Gateau – bar none – can be found at The Wolseley. I nearly cried with joy when I ate it.

That said, the Grand Café of the German Gymnasium does a lot of things very well – it's a veritable meat fest and they do the sausage and schnitzel stuff to perfection. No complaints on the triple cooked chips either and the surroundings, general buzz and service is pretty good too. I'd go back but pass on dessert.
So here we are. The planets have aligned, and we are part of the standing crowd at the Olympic Park, waiting for the greatest rock and roll band in the world to show us what they've got. Good fortune again as the support act is Florence and the Machine (pity night one, who got Liam Gallagher). Flo, as she is known on Twitter, was outstanding – great presence, lean, lithe and charmingly humble, she deliverers a clutch of crowd rousing hits, but no one is screaming for an encore.
There's a brief pause and then the lights, the guitar riff, the crowd roars and Jumpin' Jack Flash and his trusty musical lieutenants are off, and all my yesterdays are playing back to me. If it feels like that for me, what does it feel like for them?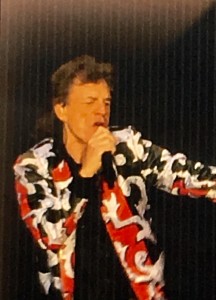 Every minute of the sex, drugs and rock and roll royalty lifestyle is etched deep into those crumbling faces. The peerless, legendary hits are the soundtrack to their life stories too. Longevity has made the Rolling Stones their own tribute – to their youth and ours.
As they go into Let's Spend the Night Together, I can hear my parents' outrage at the sentiment of the lyric. I'm 13 and if Mum and Dad disapprove of the 'those long-haired creatures,' that's all the reason I need to love them.
The teenage defiance I felt some 50 years ago is back and I'm shouting the lyrics as Jagger shows off his historic moves, running, shimmying, shaking and pointing, just as he always does. He is 74 and he doesn't look or sound ridiculous. He is Mick Jagger, one of the greatest and most distinctive lead singers of all time, miraculously still at the top of his game.
The Stones take us all the way back to 1966 with Paint it Black and I'm reminded of the song that set me off on my 'black clothes only 'phase that so infuriated my mother.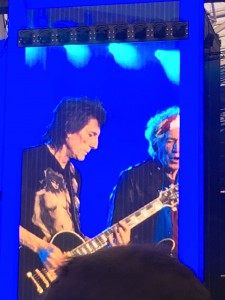 Then the red lighting and enthusiastic Woo Woo of the crowd and we're in for the anti-establishment biggie, Sympathy for the Devil.
I have a great view of the giant video screen at stage left and those crinkly faces don't lie. They've done these numbers a million time before, but now is the only moment that counts. Keith's characteristic gestures, the slight kick of the left leg, head thrown back and eyes closed when the music takes him higher. Ronnie Wood's rictus grin to the crowd can't be faked and even the straight-faced Charlie Watts breaks into a momentary smile now and then. The same commitment and attitude they had in the 1960s is still there. What the Rolling Stones represent is still relevant to the eternal teenagers in us all.
Florence briefly returns for a triumphant duet with Mick on Wild Horses and there's an extended version of Midnight Rambler to please the hardcore.
My only quibble and it may just be me is with Keith's solo spot for The Worst and Happy. I'm not a fan of Keith's high, thin, vocals but maybe the front man needs a loo break! Keith doesn't seem to be too bothered about disguising his silver hair – the feathers and other pirate paraphernalia that he used to attach to his wayward locks is gone too. Only a colourful head band remains which, from a distance suggests a head injury. Pam Ayres would be pleased to know that Keef has looked after his teeth. They seem considerably younger than he does.
It's Brown Sugar and the crowd is going wild so when Mick shouts 'goodnight' we know it's not the end. I've been ticking off the items on my dream set list and there's one left to do, guys.
The encore delivers the spine-tingling Gimme Shelter I've been hoping for and the ultimate Stones' show closer, Satisfaction. Ours and theirs for sure.
Next stop New York, for Springsteen on Broadway.