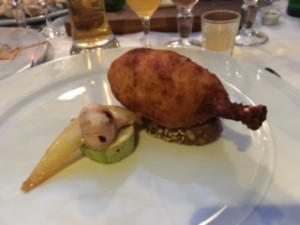 My dinner has arrived and I'm nervous. It's Chicken Kiev. I am dining at one of the city's best known traditional Ukrainian restaurants and I have ordered a dish I last ate in London in the late 70s. The recipe is well known and comprises a chicken breast, flattened to accommodate a garlic butter and parsley stuffing before being rolled and sealed with an egg and breadcrumb coating. The flavourful butter ensures the meat stays moist during deep frying.
Someone should have warned me back then that chef has a tendency to overdo the garlic butter stuffing. My knife went in at just the right point to release a volcano of foaming fat. I just had time to notice the garlicky aroma before around 250 ml of boiling butter sprayed onto my chest, completing its journey down my front in meandering rivulets. Nice. No wonder Chicken Kiev makes me nervous.
My host assures me that this is a well-loved dish in the Ukraine, created in Russia and then exported all over the world. The whole story is a little more complicated than that as the French, various world leaders, American immigrants, tourism and persuasive marketing all played a part in the story too.
I approach my dinner with extreme caution but I needn't have worried. The butter stuffing was barely in evidence and I end up dissecting my portion in a bid to find it! Perhaps this is the authentic (and safer) Ukrainian recipe and the 70s export was an aberration.
Also on the menu that evening were plates of appetisers – bite sized dumplings with a rabbit or mushroom stuffing, pickled vegetables, cured meats and little squares of dark bread with a pork fat and olive topping. The drinks included vodka, flavoured with fiery horseradish and another with honey. I preferred the non-alcoholic drink called Uzvar made from smoked pears. Mixologists in the know are using a version of this to create new ideas for cocktails.
The prunes at breakfast in our hotel were also smoked but those tasted just a bit too 'ash tray' for me to get very excited about. Smoked prunes? Quirky, right? Kiev is quirky and it didn't take me long to get in the groove.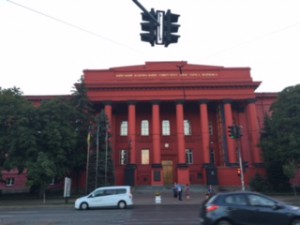 Museums
History, revolution, war and Ukrainian heritage are all well represented but for me, some of the unexpected collections were much more tempting. The Drugstore Museum, the Kiev Wax Museum and the Museum of Circus Art all beckoned but it was no contest once I heard there was a Toilet History Museum.
It is located in a 19th century fortress which should be fairly obvious, but is strangely hidden within a depressing housing estate. I got lost several times but people seemed to know what I was looking for. Everyone speaks Russian and those that understand English speak it well. I say this but on another day someone thought I wanted to purchase a headstone when I was in fact looking for a war memorial, but I digress. The Toilet History Museum houses the world's largest collection of items associated with urination and defecation. Chamber pots, bowls, pans and other receptacles down the ages through to the more sophisticated and recent urinals, flushing toilets and art pieces. There are also cabinets crammed full of 'decorative' miniatures.
Pages of information in English were pressed into my hands at the entrance as the chief curator was busy explaining everything in fine detail to a party of visiting Russians. I think she was just getting to the Romans as I was leaving the premises. Thomas Crapper has his own display – the so-called, 'father of British plumbing furniture', is fondly remembered here. It amused me that visitors have to walk past a state of the art bathroom shop to exit the museum, a gentle reminder that everyone's facilities could do with an update, perhaps.
The next stop should have been more conventional, being a museum devoted to Sholom Aleichem, the Ukrainian literary giant. However, as I was the only visitor a delightful English-speaking Ukrainian lady was immediately summoned to explain everything to me, personally. The exhibits, all housed in a single room, include letters of admiration from Tolstoy, Pushkin and Chekhov as well as posters for the original Broadway production of Fiddler on the Roof, which is based on Sholom Aleichem's stories.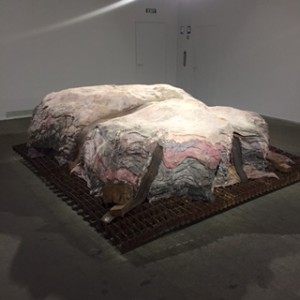 The Pinchuk Art Centre is a contemporary art gallery on several floors. The current exhibition, titled Loss is a re-interpretation of themes associated with Second World War events. The most affecting of these were the sculptures depicting the Babi Yar massacre which took place during the Nazi occupation of Ukraine. The previous day I had taken the metro to the Babi Yar site, just outside Kiev where there are several memorials to the victims in the forest and nearby parkland.
Monks
Kiev's Pecherska Lavra is the Ukrainian Orthodox church's most sacred site. An ancient monastery comprising a complex of gold domed churches and caves is arguably Kiev's main historic attraction. Above ground there are fantastic views of the city whilst below, along hushed and narrow passages lie the mummified bodies of the monks that lived there from its founding in 1051.
The scale and majesty of the complex is impressive but the caves are definitely the highlight. Visitors buy candles to light their way which adds to the creepy atmosphere. The route is very narrow and I didn't expect to see worshippers stopping to kiss the glass-topped coffins as they go. In some the withered hands of the deceased are visible through the glass. The priests at the entrance are like bouncers and are very strict on appropriate dress. Women wearing trousers have to put on a wraparound skirt supplied for the purpose although, bizarrely, younger girls in very short dresses cause no concern at all.
Markets
One of the prettiest streets in Kiev's old town is St Andrew's Descent, a long, winding, cobblestoned route with St Andrew's church at the top and numerous stalls selling eclectic flea market goods, craft items, art work and souvenirs.
A good few hours can quickly pass here as you stop to browse for something unusual and original. There are also galleries, vintage clothes shops and local makers selling their goods so no wonder we came back with a framed picture and a typically Ukrainian carved wooden box.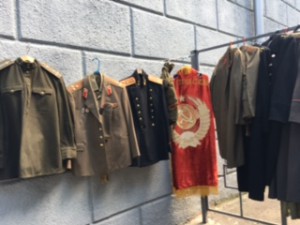 We were told that the Besarabsky covered food market is expensive for locals and when we visited there were certainly very few customers to appreciate the beautiful displays of fruit and vegetables, smoked fish, meats and caviar.
Outside the metro stations we noticed the competition – lots of babooshkas from the country selling little pots of home grown soft fruits and husks of sweet corn.
You can eat very well in Kiev for next to nothing and even the relatively expensive places are reasonable. One gem we went back to twice for dinner is Good Wine, a restaurant with an impressive food and drink emporium attached.
We had a delicious prosecco and grapefruit cocktail there and were so impressed with the combination a bottle of the grapefruit liqueur had to be purchased in the shop for a reprise in Dubai. Grapefruit liqueur? Quirky Kiev!