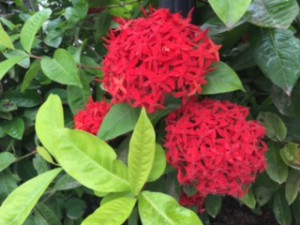 Ask anyone living in Dubai for suggestions on places to visit in Oman and they will probably list one of three destinations.
The capital city of Muscat is reputedly a must-see, with its fabulous Souk and impressive historic architecture. It's on our list. Or they might mention Khasab in the Musandam region, a mountaneous peninsula with a jagged coastline, within driving distance from Dubai. We enjoyed dolphin spotting on board a traditional dhow there so much we've done it twice. Those really in the know will also mention Salalah, the capital city of southern Oman's Dhofar province, a two-hour flight away.
Lush, they say. Lush? In the Middle East? How come? The trusty friends that know their geography then point out that Salalah is sub-tropical with a monsoon season that is just coming to an end in September. At this time of year the refreshed landscape looks and feels fully hydrated. As we drove to the various beauty spots the colours on show were a treat for the senses after sandy Dubai. We didn't get to see everything but here are some of the sights we captured on our trip.
Walking along the beach on the first day the misty warm air felt like rain on the skin, yet it wasn't raining! We saw sandpipers speeding along the sand looking for something to eat and dodging the choppy waters just in time.
The next morning we decided to explore. Tim was delighted to find that the hire car company kindly supplied a 4×4 vehicle bearing his initials and year of birth. Such a personal touch.
After the monsoon most visitors head for the hills and the scenic routes leading to the caves, mountain springs and waterfalls around Salalah. We had to pause in our eagerness to get to one waterhole to let a group of camels cross the road.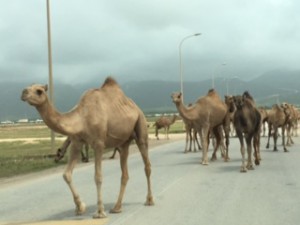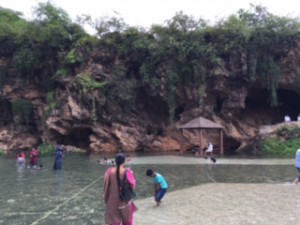 Are we in the Middle East or the North York Moors? We really didn't expect to see green and rolling hills or a tree like this in the same locality as coconut palms and banana plantations.
Just as we started to get used to it we turned another corner and found a scrubby desert view and a plantation of low growing, bushy trees.
We had happened upon Wadi Dawkah and a park of frankincense trees, part of a site recognised by UNESCO's World Cultural and Natural Heritage List. Sap taken from the trees at various stages of growth is mixed with coals and burnt to produce Oman's highly prized signature perfume. I realise now that this must have been the heady fragrance in the lobby of our hotel. The frankincense from Dhofar is considered to be the finest in the world and is traditionally used to perfume clothes, hair and beards. The smoke also repels mosquitoes (handy in this area) and can be used for medicinal purposes too.
High on a hill sang the lonely goat herd – the lone shepherd tending his goats looked almost biblical.
Salalah town itself is unremarkable but the Sultan Qaboos Mosque with its immaculate exterior is impressive, as are the colourful banknotes. We didn't have a single coin in change during our stay. The Omanis do like their banknotes!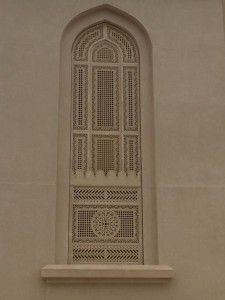 We came across these guys playing a game that looked like Ludo. Turned out that's just what it was – ah, those were the days.
Food outside of the hotel resorts can be a bit hit and miss. We had a delicious Goan Kingfish curry at the Silk Road restaurant at the Rotana Beach Resort but on another night in Salalah town we chose less well. To be fair we weren't the only customers tempted to try the Chinese Palace – two Chinese girls we met at the airport were also hoping for the best there too. The Omani and Indian cooks in Salalah are used to producing food with an international theme but they could have done with a Chinese national in this kitchen. We should have known it was game over when two pots of jasmine tea proved a challenge. It wasn't just that the restaurant only had one teapot, more to the point, the kitchen didn't know how to make Chinese tea. There were more leaves than water in this version. No chopsticks was another clue, I guess.
On the coast road near the Marneef cave we passed unspoilt beaches and watched as the Indian Ocean made its presence felt.
It was a hot day and some of the visitors chose to stand over a grating for a refreshing, if violent soaking, at a strategically placed blowhole. Standing directly under the overhanging rock felt cool and a much more comfortable spot to take in the view.
Salalah made me realise just how much I've missed green countryside and clean, fresh air. It was well worth a look.