'You are welcome'. This simple phrase, usually just a reflex response to thanks, when used at all, doesn't usually catch my attention. It took a journey to Jordan for me to appreciate the real meaning of these words when spoken by a Jordanian. Everywhere we went it seemed that ordinary people were genuinely delighted to know that visitors were in their midst and this oft repeated greeting was their way of communicating their pleasure.
Strolling past a café or a barber shop in the little town of Wadi Musa was enough to bring forth smiling locals, keen to impart these generous sentiments. We were routinely welcomed into taxis, to breakfast and re-welcomed on return to our hotel after a day out. Even the male housekeeper that cleaned the rooms deemed that our presence warranted his personal welcome and a broad smile.
Despite the attraction of Petra the town of Wadi Musa does not appear to be particularly prosperous. We were there at the hottest time of year when visitor numbers are low. Several hotels had closed, some for good, we heard. The town's economy relies on tourism, so the less popular summer months are a challenging season for most of the inhabitants. We were told the government now take a high percentage of an individual's earnings from tourism in tax and prices in and around the Petra site certainly seemed to reflect this.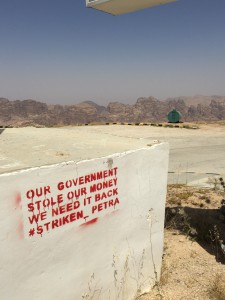 All the taxi drivers have a knack of quickly finding out when you are leaving so they can be in with a chance of securing a lucrative fare to Amman airport, a three-hour drive away. Most are willing to undercut whatever you have been quoted by someone else. We were soon adopted by a particularly assertive, but helpful taxi driver who made up his mind he would take us everywhere we needed to go – at all times. Resistance was useless but it was thanks to him that we made the very sensible decision to explore the Petra site at 6.30am before the heat of the day made walking around really uncomfortable.
I knew virtually nothing about Petra before I went but now I know that it was built by the Nabataeans who ruled Jordan from the third century B.C. until the first century A.D. They became wealthy spice traders and absorbed many influences from other cultures, evident in the architectural features at Petra, which was once a busy capital city. When the civilisation went into decline Petra was abandoned and lost to the world until a Swiss traveller rediscovered the ruins in 1812. In 2007 it was named as one of the newer Seven Wonders of the World.
We checked into our hotel in time to join a candlelit walk to the Treasury, the most impressive and complete monument on the site. After the long walk through a narrow gorge, a section of a ghostly façade, illuminated by flickering candlelight came into view. A musical performance on an early version of the guitar was laid on and while we sat sipping our sweet black tea we could gaze in wonder at the whole and marvel how it had all been carved from a single piece of stone. It is so magnificently intact that the night time atmosphere made it seem like a trick, an illusion. It is mesmerising and despite the long trek to get there all I could think about was coming back to see how it looked in daylight – hence the decision, after a day of rest, to return at 6.30am.
On the way back a distant rat-a-tat-tat kept interrupting the peace. It sounded like gun fire. Was Jordan at war or could it be coming from the Israeli border? It wasn't until the next day that we found out that it was a wedding party. Guns are routinely fired into the air by way of celebration within these communities. It happened the next night too and this time some friendly waiters in a nearby hotel, who knew the happy couple, explained that there was no imminent danger!
Visiting Petra, as we observed on the candlelit walk, is not for the faint-hearted. The mile long walk through the Siq is over uneven ground which is quite hard to negotiate in semi-light. Returning, when I could see where I was going more clearly, made me realise that without Tim to hold on to I could have easily taken a tumble. The walk back is uphill and in daytime much of the final section is in full sun. The Bedouin horsemen offering bumpy rides in a buggy can virtually name their price – they even claim they take Visa! In fact this proved a little more complicated than envisaged when we climbed in, as the credit card facility relied on the driver's mates near the Visitor Centre to help out.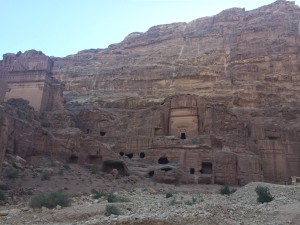 The Treasury is even more dramatic in daylight as all the detail of the dusky pink exterior is revealed. Walking on from there we passed high points of religious significance with spectacular views, rows of tombs and temples with intricate carvings, the remains of a magnificent amphitheatre and a colonnaded street which was once the main thoroughfare. I declined to tackle the 800 steps cut into a mountain which leads to the Monastery, the pinnacle of the Petra site, but Tim bravely ascended on a donkey! Even the donkey could only go so far and Tim wisely stopped short of the full climb. The view and the Monastery is just as impressive from 500 steps it seems.
All round Petra, there are rickety souvenir stalls and cafes run by locals where overheated tourists can take a break and catch their breath. I had heard that Marguerite van Geldermalsen, the author of Married to a Bedouin ran a souvenir and jewellery store on the site.
We soon spotted a board advertising her book and whilst we were browsing the lady in question introduced herself. She kindly signed my copy and I also purchased a grossly overpriced hand-made silver necklace from her. I couldn't resist when she told me the design was based on one of the decorative features of the Treasury. Worth it for a lasting memento of a visit to Petra. I am part of the way through her book but there are so many questions I would have liked to ask her. As she tells it, she went from life as a single Western woman to living in a cave with a Bedouin husband without the slightest anxiety. I find it hard to believe the adjustment was quite as easy as described and that there was nothing she missed about her own culture and background.
So what did we eat? Jordan's food has much in common with other Middle Eastern countries. Appetisers are the mezze dishes, identical to those we have had in Lebanon and Dubai – piles of Arabic flatbread, served with dishes of hummus, tabbouleh, a smooth aubergine and garlic dip (moutabal) and an Arabic salad of diced cucumber and tomato.
A colleague of Tim's alerted us to try some traditional Bedouin specialities, including Mansaf, Jordan's national dish. Our hotel offered a typical Bedouin dinner option, served in a tent, with the main courses cooked, desert –style, in underground ovens.
Mansaf was on the menu so it had to be tried. This is lamb on the bone, cooked in fermented yoghurt until meltingly tender and served with rice. The dish is enclosed in Arabic bread which has a slight crispness to it from the oven and a sauce of warm yoghurt is the accompaniment. I was less keen on the sauce. Warm yoghurt? Some chopped mint added in would have made it more appealing but it was very tasty without the sauce anyway.
Tim tried Mandi – a delicious roasted chicken dish served on top of lightly spiced rice with sweet carrots. Another recommendation which we didn't try on this trip is Maklouba which literally means 'upside side down'. Meat, rice and vegetables are put into the pot in layers, cooked slowly and then the pot is turned upside down to serve so that all the meat juices flavour the rice and vegetables. Next time.