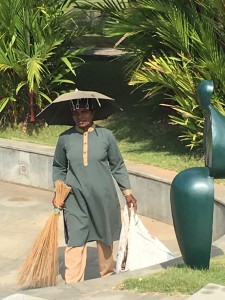 Onwards by car to our next and final stop – the lakeside village of Kumarakom and the beautiful Zuri spa resort. This tranquil haven of beautiful gardens, stunning views and comfortable deluxe accommodation was greatly appreciated after the 'rustic' and altogether charmless houseboat facilities.
A spot of poolside relaxation and a cooling dip eased us back into holiday mode. The Zuri resort requires an army of gardeners to keep the grounds immaculate at all times. I loved the ingenious umbrella contraptions they wear to keep the sun off. One of those would be really handy in Dubai.
Tim's pre-birthday celebrations started with a cake delivered to our room soon after our arrival. How did they know? On closer inspection, the icing indicated this was a 'welcome' cake for both of us. How very thoughtful. It would be rude not to tuck in and the rest will be dessert, to be enjoyed later on we said. If we had known this was to be the first of three cakes appearing over the next 24 hours we might not have been quite so enthusiastic. Meanwhile, we had dinner to consider and we were in the mood to explore.
A contact at the Guild of Food Writers and a Keralan born and bred had given me a list of suggested restaurants to try in this area. One called Thali was in the nearby town of Kottayam, just a taxi ride away. Their dinner speciality is stuffed dosas and we were the only obvious tourists trying them in this popular, but basic family restaurant.
A dosa is similar to a savoury pancake, but made with rice batter and black lentils. Tim's had a chicken filling and I tried the vegetable one. Both were deliciously fresh and bursting with spice and flavour. Two sambars were provided for contrast – one of coconut and coriander and the other more of a gravy. With two cups of black tea it was proper comfort food. Dinner for two that night came to less than £2.50. What a bargain!
We didn't explore the Zuri's spa facilities the next day as that would have meant going indoors and then we could have been at any spa, anywhere in the world. What would have been the point? Instead we opted for a sunset cruise around the lake. Just before we were due to set off, a second cake was delivered to the room, for this was indeed Tim's birthday. Good timing, as we could share this amongst the other guests gathered at the jetty for afternoon tea. I had pre-arranged a swanky birthday dinner at the Vivanta by Taj hotel up the road so we decided to forgo the cake at this stage. A wise decision as it turned out.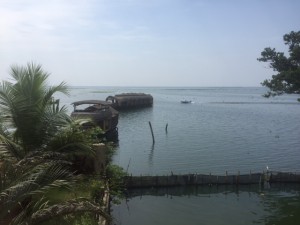 The setting for Tim's birthday meal was certainly impressive. We had the best table in the outdoor restaurant, overlooking the lagoon and right in front of a performance area. Traditional live music and dance was taking place that evening. Perfect! My one fear when making the booking was that we would be a tempting feast for peckish mosquitoes but the restaurant staff were diligent in keeping the pests at bay. Every fifteen minutes or so a staff member would walk back and forth swinging a metal container of burning citronella, creating wafts of protective vapour. The strategy worked a treat.
Dinner was outstanding. Tim went for the Pollichathu – the Keralan fish steamed in a banana leaf but I was keen to try of the many gorgeous sounding lamb dishes. I went for Ghosht Hazaari – Hyderabadi style mutton with ginger and mint. It was meltingly tender and exceptionally generous with ginger. On advice from the waiter I changed my first choice of coconut rice to one that would better compliment the lamb -a pulao rice dish cooked with peas. It was faultless and one of those rare dining experiences where the mood, place and quality of food are in perfect harmony.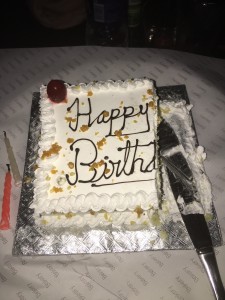 When we arrived the waiter's knowing smile at our name told me that dessert was already taken care of. I decided not to break the news, ahead of the arrival of what I knew would be the third birthday cake! Luckily, the band were coming to the end of their performance so we asked for extra plates and forks and dished out generous slices for the musicians.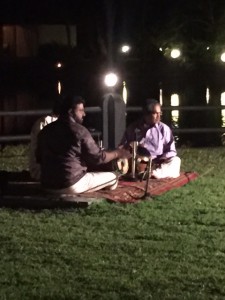 We were nearly at the end of our adventure but we had some time the next morning to drive to the spectacular waterfalls of Anthirapally. There is a fairly unforgiving and steep walk to the gorge and the climb back up, in the heat of the day, is not for the faint-hearted but it was definitely worth it. I am no hiker but it was amusing to see the number of local female visitors scrambling over the rocks and balancing along the steeper slopes in totally unsuitable but highly decorative saris and open sandals!
We took the chance to catch our breath at a few spots on the climb back up. Local teenagers on a school visit spotted the chance to practice their English and were very keen to take selfies with us. It was all a bit surprising but totally charming. That just about sums up our trip to Kerala. More India, please!