Dubai is full of glitzy, expensive restaurants but there is another side to this food-loving city that is easy to overlook. Old Dubai, is crammed with Indian street food sellers, artisan food producers, family–run restaurants and ethnic grocery stores, offering authentic regional specialities at bargain prices, but where to start? We have made tentative inroads to this other world but knowing where to go and what to order requires some serious insider knowledge. Enter Frying Pan Adventures, a small, local tour company started and run by two food-loving sisters, Farida and Arva Ahmed.
I found them on Twitter before we arrived in Dubai and made a mental note to check out one of several walking food tours they offer but my first attempt was unsuccessful. Frying Pan Adventures' events are popular and the available dates sell out fast. The street food businesses they visit get very busy as the evening progresses so managing a large group down a narrow side street, noisy thoroughfare and indeed working kitchen could be problematic and frustrating for everyone. Consequently, numbers are wisely kept quite small so there is a chance to get to know your fellow diners and ask the organisers lots of questions as you taste.
Farida was our guide through the bustling Meena Bazaar and it would be hard to find a more enthusiastic and informative ambassador for Dubai's Indian food community. Farida seasoned all the dishes we tried with tasty titbits of Indian history, epic love stories, dashes of Sanskrit and her own family's food heritage and traditions.
The food of India is of course an enormous topic and the menu over one evening could only be a small snapshot. I say small, but there is no shortage of food! Second and even third helpings of everything are on offer and by the end of the trail I was certainly very full.
The nutrition police would have been horrified by the amount of fried food and sugar we consumed over four hours though and whilst the majority of dishes were vegetarian, I was quite surprised that the vegetables that take on Indian flavours so well were not in evidence at all. The inclusion of a little cauliflower, aubergine or spinach would certainly have provided some balance in light of what was to come.
Towards the end of the evening the sweet versus savoury ratio went out of the window completely and I imagine, for those without a super sweet tooth, digesting two rich desserts either side of a main course could be challenging.
The dishes I really enjoyed were the savoury snacks or chaat. You can make a meal of these by themselves or just have one or two to whet your appetite for the main event.
At Rangoli restaurant we started with pani puri, a liquid-filled Indian fried dough ball filled with green gram sprouts, black chickpeas, potatoes. The boondi version is made out of fried gram flour, spicy chilli water and sweet date chutney. These have to be eaten in one bite and quickly! As they are filled with liquid, the dough collapses in seconds. A dainty bite is not an option for the same reason, which I why I ended up wearing my first pani puri!
Bhel Puri is puffed rice with onions, raw mangoes, tomatoes, crushed puris, spices and deep fried gram flour noodles called sev- the main ingredient of Bombay Mix. This dish had a lot of texture and crunch and all the different ingredients looked really attractive on the plate.
Dahi Batata Puri was my favourite here. So many contrasts and tastes all in one mouthful! This fried dough ball was filled with potatoes, garlic-red chilli chutney, spicy chilli water, sweet dates chutney, yogurt, powdered cumin and deep fried gram flour noodles.
We stopped at the Farisian Cafeteria next for a bag of potato bhondas, which are dipped in a gram flour batter before frying and some onion samosas. A delicious spicy green chutney brought out the flavours of these beautifully.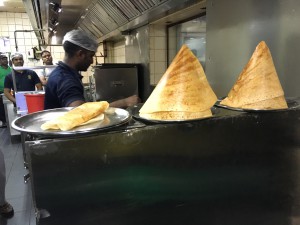 The Sangeetha Restaurant first let us into the kitchen where the chefs were preparing dosas and frying puris before we sat down to try their Mini Tiffin, a complete meal comprising a variety of different small dishes:
• Masala Dosa, a fermented rice and black gram lentil crepe, stuffed with mashed, curried potatoes
• Topi dosa, a hat shaped crisp crepe – pieces are broken off and dipped into plain coconut chutney, coriander chutney and a mixed lentil chutney
• Mini idlis in sambar, steamed discs of fermented rice and split black lentil paste in a lentil stew
• Medu vada , a black gram savoury doughnut
• Rava upma, a semolina and split black lentil mash
• Pongal, rice and green gram lentil mash, served with sambar
• The Mini Tiffin comes with a dessert – kesari, a semolina-sugar-ghee halwa and a steaming hot cup of Madrasi filter coffee.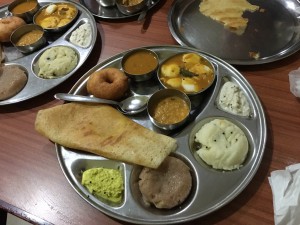 The flavours here were interesting, but not overwhelming and everything, bar the Topi Dosa was the same soft texture. I have had a dosa in Bradford and this too was stuffed with potatoes. I am wondering why a more interesting and more colourful vegetable filling isn't used. It was all a bit too stodgy for my taste.
The next stop at Abu Sahar Bakery was amazing and thanks to a team effort our oven-hot roti bread could be stretched out between us whilst someone else slathered ghee (clarified butter) all over it and another sprinkled jaggery (unrefined sugar) onto the butter. Then it was swiftly folded, Swiss roll style, so we could all tear off pieces to try. A sugar sandwich! It was, I admit, delicious but just the bread on its own would have been fantastic.
The sugar high continued with a visit to Sri Krishna Sweets for Mysore Pak, a gram flour-sugar-ghee golden brown biscuit, very similar to Scottish Tablet. The display of colourful sweets was too tempting for most of us but Chivdaa/Chudwaa, a savoury snack combining fried lentils, cereals and sev was also passed round.
We stopped for a swift palate cleanser of fresh sugar cane juice with lemon and ginger before heading off to Sind Punjab. The Indian 'cliché of grilled chicken tikka is an institution here. Cooked to order, it was tasty and juicy and came with all the traditional accompaniments, including a masala papad, a crisp lentil disc topped with fresh coriander, tomatoes and onions, plus chaat masala, a mint yoghurt sauce, chana masala, chickpea gravy, a buttered naan and lachha paratha, a whole wheat bread. After so much sugar, we all fell upon this savoury feast and several helpings were enjoyed by all.
For our final dessert we first watched the chef at Chatori Gali create our Jalebis. These are ribbons of twirled batter made with refined flour, yeast and saffron, coated in sugar syrup. Well it would have been rude not to, right? Especially with those accompaniments – Rabri a dense, sweet milky confection with dried fruits and Matka Kulfi a pistachio flavoured Indian ice cream.
No wonder Farida hands out certificates of congratulation on completing this eating marathon! Hugely enjoyable and great fun, but more vegetables next time please!