It seemed as if it would never happen but finally – after all the official documents were in order – a six-night stay in Iran became a reality. Tim's been travelling from Dubai to Tehran for work quite regularly but this was our opportunity for a trip together. With a seven-day visa, we only had a couple of days in each city to access the history, heritage, beauty and cultural achievements of this remarkable country. No problem. They are everywhere!
Thanks to our hosts we also had an insight into everyday life and answers to our many questions about the current Iranian lifestyle.
The welcome and kindness we received from total strangers, everywhere we went in Iran, has left a lasting impression. It was so at odds with the received information, such as you find in the official advice to travellers on the UK government website. A section on safety and security reads: 'You should consider carefully the risks of travelling to Iran. If you choose to travel, you may wish to keep a low profile'.
Keeping a low profile is an interesting idea but it doesn't quite work in a place that is so friendly and where we were very obviously not locals. The average person on the street appears delighted to see visitors from abroad and many approached us, expressly to tell us so. The British are a rare breed in Iran and we had the impression our presence reminded many older people of the times before the fall of the Shah.
No one we encountered appeared fearful of approaching us and we felt safe to walk around and take photos wherever we went.
The welcome to Iran started on our flight out of Dubai when a charming young woman gave us a first-class recommendation for eating out in Shiraz. It turned out this was her home town and if we needed her help during our stay she was at our disposal. She was as good as her word and even texted the next day to see if we needed her assistance.
Once we'd checked in to the appropriately named Shiraz Hotel – very comfortable on the inside, with an impressive exterior reminiscent of Thunderbirds' Tracy Island – it was time to explore the famous Bazaar Vakil in the historic centre. Our attempts at correct Farsi pronunciation baffled our taxi driver but undeterred, he flagged down a passing pedestrian who could translate. Our first experience of a typical Iranian bazaar didn't disappoint. An enormous warren of joining passageways and courtyards dating from the 1760's with extraordinary vaulted ceilings is home to sellers of just about everything from carpets and traditional homewares to crafts, clothing, hanks of wool, fancy materials, spices and foodstuffs of every kind.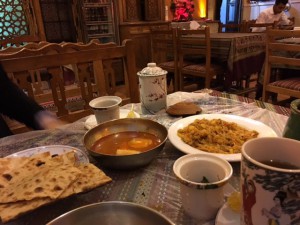 There are small cafes and tea houses in the courtyards of the bazaar so we stopped at one to share a snack called Dizi. This is a lamb, chickpea, bean and vegetable stew with a twist. At the table the strained stew arrives in a container with a mashing instrument attached. The cooking broth from the stew arrives in a separate bowl with a plate of warm flatbread. The stew is then pressed to a pulp. You pick up pieces of the mashed stew with the bread and then dip in the broth. Very delicious.
The bazaar was relatively quiet when we arrived but towards the end of the afternoon the passageways started to fill up and the traffic build-up around the centre indicated local people were on a shopping mission.
Our arrival in Iran coincided with the run up to the Iranian New Year or Nowruz, which is celebrated on 21 March for three weeks. In preparation for Nowruz women shop till they drop for new clothes and homewares. Homes are treated to a thorough spring clean and new household items are also purchased. Symbols of new life, including decorated eggs are all part of it too. It sounded very much like our own preparations for Christmas and Easter rolled into one giant festival and when I ventured to ask if women found this time of year a little stressful, the question was answered in the affirmative!
An interesting aspect to the Iranian New Year is the ritual of displaying seven items beginning with the letter S in homes and offices. These are: Seeb (apple), either Serke (vinegar) or a spice, (Sumac), Sabze (green grass), Senjed (a special kind of berry), Samanoo (a meal of wheat), Sekke (coin), and Seer (garlic).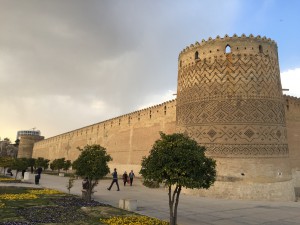 On our first day in Shiraz we also explored the Karim Khan citadel and orange gardens dating from the middle of the 18th century. Amongst the most impressive features are the bathhouse, the stained glass windows and decorative wood surrounds. The heavens opened during our visit so we didn't linger for too long in the gardens. The fruit was visible though and is the same variety as in Seville. In Iran it's known as bitter orange or narenj and is used to add an extra depth of sharp, citrus flavour to soups, stews and dressings. In the UK this variety is commonly used to make marmalade.
When the rain stopped, we walked around the town, looking in the windows of the small shops selling pickles and watching as freshly baked bread was displayed on racks to cool. A crowd had gathered by a stand at the top of the street. Tea and cakes were being handed out to the waiting people. No money appeared to be changing hands.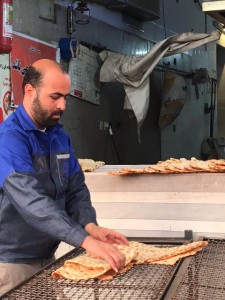 We hung back but were urged to come forward and join in. Free tea and cake? What a country! And it didn't stop there. A helper carried a tray to the road and while the traffic was held up, windows were wound down and tea and cake supplied to drivers and passengers.
Later we learned this gesture was associated with a local death or memorial service at the mosque next door. Relatives of the deceased would be providing the food and drink to all who passed by as a blessing.
Shiraz is renowned in Iran for the cultivation and celebration of the narcissus flower or Narges. Later that evening we were trying to find a recommended restaurant for dinner. We had taken the wrong road but didn't realise our mistake. We passed two young men, one of whom handed Tim a bunch of narcissi. No thank you, we said in our British way. They looked so hurt by our refusal to accept the blooms that we stopped. It turned out this had been nothing more than a friendly seasonal gesture.
One of them spoke very good English and explained the significance of the flowers and that sharing their exquisite perfume is said to make people happy. They then insisted on taking us to the restaurant we were looking for and drove us to the door. What kindness!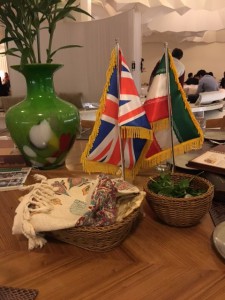 Haft Khan is a complex with several dining options. We chose the traditional Iranian restaurant and it was so good we went back the second night too. Visitors here are asked where they are from as they are seated. The flag representing the visiting country and the Iranian flag are displayed on the table together. This restaurant has a vast collection of flags! I noticed this at other restaurants too. Another signal of friendship so at odds with the UK government's advice to travellers.
The food here was fantastic. We particularly enjoyed the appetiser of soft cheese with crushed walnuts. This is spread onto warm flat bread. A basket of fresh herbs, including chives, chervil and mint is also supplied for each person to put herbs of their choice on top.
The Iranians have a sweet tooth so savoury main course sauces are often sweetened with pomegranate.
Rice is elevated to new heights in Iran. It might come crisply topped and fragrant with saffron or studded with tiny, crimson barberries. Just what you need to soak up a plentiful sauce. At Haft Khan we shared a dish of roasted baby chicken with plums, walnuts, raisins, almonds and pistachios and also tried a hearty stew of lamb, split peas and aubergine with a citrus kick from black lime. It was faultless and very satisfying after a day of sight-seeing.
How are you getting to Persepolis? This is the second most asked question of any visitor to Shiraz, after, 'Where are you from?' Just an hour's drive away, this site is on everyone's must-see list.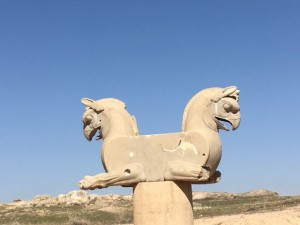 The great symbol of Persian civilisation and power took more than 50 years to build. When Alexander the Great conquered the Persian capital city in 330 BC he looted its treasures and set fire to the city, but the ruins of the former royal palaces, gates, great halls, tombs and the decorative reliefs that remain are testament to the might and ambition of Darius the Great and his son Xerxes.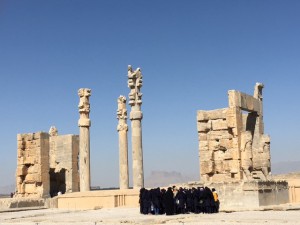 Our tour guide provided us with all the historical background we needed and we felt privileged to be allowed access to such a precious piece of history. The scale and sophistication of the structure is remarkable and on our visit crowds of local photography students were just as keen as the visitors to capture images of one of the world's great archaeological sites.
A short drive from Persepolis is the necropolis, a series of royal tombs, built into the rock, high above the ground – imposing and solemn monuments, with their own secrets. Our guide explained why the doors to the tombs remain open. They had long ago been smashed by robbers and the treasures inside all stolen.
In the afternoon, we returned to Shiraz to wander in the peaceful, landscaped surroundings of the Eram Garden and then to visit the tomb of the much loved 14th century Persian poet, Havez. Our first two days in Iran were certainly steeped in culture. Next stop Isfahan!