When does living in a new location really feel like home? Returning to Dubai after a holiday it now seems less like a fantastic experiment and much more like real life. What has caused this subtle shift in thinking? The occupants of the flat above ours and their home improvements mostly but more of that later.
In the last few weeks we have enjoyed time with family and friends in Venice and the UK and also attended two wonderful celebrations. At a wedding in London and a birthday party in Denmark we felt like VIPs. We were the interesting pair that live in Dubai or the guests that had 'covered more miles to be here' than anyone else. It seemed where we lived and what our life was like was a topic of interest to everyone we met. It started to feel good to talk about it too. We had plenty of positive things to say and we could answer most people's questions with some knowledge and hopefully, good humour.
Making the leap from the UK to Dubai has definitely put ideas in our heads. 'Home' is becoming a very elastic concept. For the first part of our holiday we rented an apartment in Venice, well away from the crowds. As soon as we had the keys we started to imagine what it might be like to live there permanently – to pick up your fruit and veg from that magnificent display by 'our' bridge or stroll to the nearest square for an early evening glass of wine and the delicious snacks that Italians always serve with alcohol.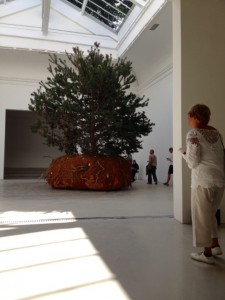 With a few notable exceptions the Venice Biennale 2015 lacked the optimism and resonance of previous years but in a city that can never disappoint, we all found plenty to enjoy here, especially on the food front.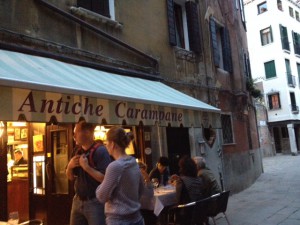 So on to the UK. This would feel like home, wouldn't it? Familiar yes, but this would be the last time I would have a reason to go up this path and ring the bell. The keys would soon be handed over to someone else. Mum's house had been sold and we were there to remove the contents and let go. For different reasons we had undergone much the same process in February when we left our former home in Harrogate after 20 years in residence.
Denmark gave us the Indian summer temperatures we didn't have in the UK and the time to enjoy a boat trip in the sunshine. Beautiful now but this is the end of season. Soon this area will turn chilly, grey and wet. Having survived Dubai's ferocious summer heat we were already beginning to anticipate the return journey and hoping the more tolerable 'winter' temperatures had started to kick in.
So here we are, back in the Dubai bubble of wacky skylines and blatant consumerism but all is not what it was. Something big and noisy has arrived unannounced, shattering the calm in our building.
Doors are open and strangers of all nationalities are introducing themselves to each other, holding their heads and pointing upwards. We are bonding over a common enemy. The cuckoo in the nest on the next floor is using a jack hammer to destroy a perfectly good tiled floor. The drilling noise goes on for hours, day after day. No explanation, no information.
It is like torture. When it starts every tooth in my head feels as if it is falling out. I drop objects, my brain will not function, I literally cannot think. My tranquil haven is being taken over by a screeching monster and is forcing me out. There is nothing quite like a crisis to prompt defensive action in a Brit. This is my home, if you don't mind! Not just my home, also my workplace.
The other affected residents are equally aggrieved but lack action. Leave it to me. Suddenly I am everyone's representative on the topic of noise. The prestigious property management company that granted permission for the work to be carried out seemed to have overlooked their own rules that say disturbance to existing residents is not acceptable. Security are called and after much discussion and a demonstration of the said jack hammer in action, all work is stopped.
The 'home improver' knocks on the door to apologise. If ever there was an opportunity to give someone with no empathy some useful 'feedback' it is now. I suggest how his interior design project could have been better managed to avoid such universal unhappiness.
The next day negotiations between the owner, the contractor and err, me, begin. After several days of respite, allowing everyone's hackles to subside, with my permission, the contractors are granted one further day to complete all the work. I make sure I am out for the majority of it.
Peace has now been restored and I have met more people in my building in the last week than in the previous eight months. All it takes is a little local difficulty to feel right at home – wherever you are!