It started out innocently enough. That fancy you get for something you have eaten before that really hits the spot, when it's done right. Every cuisine we are used to finding in the UK is available in Dubai so for the past few weeks I have been on a quest to track down a dish I know is out there. The Thai green chicken curry of my dreams.
For me it will be freshly prepared, fragrant with lemon grass, kaffir lime leaves and galangal. A good chilli hit and a thin, but creamy and slightly sweet coconut milk sauce. Sections of baby aubergines will be bobbing on the surface, juicy pieces of chicken below and slivers of red chilli and lime leaf will be clinging to every spoonful. The splash of salty fish sauce that brings all the sweet, sour, bitter and spicy elements of the dish together will be present but will not overpower.
It shouldn't be that hard to find in a city with so many eating opportunities. My copy of Time Out Dubai lists nine Thai restaurants and that is a small sample. I have tried five to date and only one of those appears in this listing. I have listened to recommendations and tried places that should be able to deliver the goods. Disappointment every time. So when I get a text from two different contacts suggesting I try Smiling BKK, I pay attention and I look at the website.
Scary, isn't it? Aside from the graphics, the menu selection at the bottom suggests that when they get bored with the run of the mill Thai stuff, they take a few liberties with spaghetti. Don't judge. Let's eat. Then judge.
This restaurant needs to come with a warning. The interior resembles a confused and troubled teenager's bedroom. Identity crisis is writ large in the black curtains and the highly varnished tables are giving off an aroma that could be mind-altering. That thought quickly evaporates because sensory overload has kicked in from the multitude of coloured ceiling lights, two screens simultaneously showing American music videos and the cardboard cut outs of celebrities and dead Hollywood stars that have been randomly positioned round the room.
I'm a little worried by the life size Justin Bieber that appears to be giving me the eye as Michelle Obama looks on approvingly. It is hard to concentrate on the menu when Mickey Mouse hovers overhead and Austin Powers is striking a pose close by. Meanwhile, a moustached Mona Lisa, clearly the significant BKK image awaits our order. Oh, and there is a toy gun on the table! When you are ready to order, you fire it and a waiter in a diamante baseball cap comes running. A restaurant with all the ambience of a David Lynch film. Maybe at the stroke of midnight a dwarf emerges from the kitchen singing a Roy Orbison song backwards? I have heard that this place attempts to recreate the atmosphere of a typical café in Bangkok. I have been to Bangkok and never encountered anything remotely like this.
It took us ages to order because of all the distractions, plus every dish is irritatingly subtitled as a movie or pop song. In the teeth of all this nonsense I did notice some good looking dishes arriving at nearby tables and other diners seemed to be tucking in, oblivious to the peculiar surroundings. Either they had been here before, so the gimmicks were all so 'whatever,' or the effects of the varnish had kicked in.
Someone in the kitchen is doing quite a bit right, though. This green chicken curry is getting very close to perfection. The pea aubergines were a pleasing addition to the texture and authenticity and the base sauce had all the zing of the fresh herbs and citrus I was looking for. The fish sauce was missing though so that extra layer of complexity wasn't quite there but this was the best of its kind I've had to date.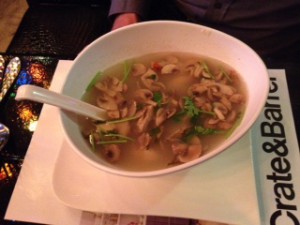 The prawn Tom Yum soup suffered from too much lime juice. We remedied this at the table with a spoonful of the curry sauce which softened the acidity but it too could have done with some fish sauce for that authentic tang. The Pad Thai had the fiery taste of the hot wok which I love and was served in an appetising mound with a good helping of fresh beansprouts and crushed peanuts for added crunch. It was very moreish and I know why. It was extremely sweet. Not too much palm sugar for me but I suspect it would be for many.
The order also included a large bottle of sparkling water and some steamed rice. For the total bill to come to 125AED (just over £20) not only makes this the weirdest restaurant experience to date, it also turned out to be the best value. Now I know why they say customers leave with a smile. It's either that or the varnish.