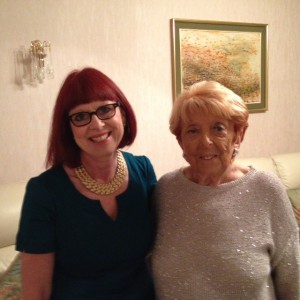 'Give me a call on my mobile please.' Out of a clear blue Dubai sky the coded message from my brother that pings me back to the UK. Even before I hear his voice I know it is mum and it is serious.
A catastrophic stroke and three further bleeds into the brain. Conscious and breathing by herself. No movement on her right side. She must be terrified. My father and stepfather both had fatal strokes. A seat is booked on the Dubai to Heathrow flight leaving at 9.10am the next morning. Time zones are on my side and assuming no delays I could be at Watford General hospital by mid- afternoon.
She had taken our move to Dubai in her stride. Every Sunday afternoon we would link up via Skype and share the week's news. The previous weekend had been her 85th birthday. I was fretting because the tracked birthday gift posted from Dubai in good time still seemed to be sitting in a sorting office somewhere in Jersey. I had been on about it for weeks, stupidly urging her to wait for her birthday should it arrive early. If only.
Mum was like a child where gifts were concerned. Too excited to wait till the big day, Christmas parcels were invariably torn open ahead of time on the flimsiest of pretexts. Joy would be fulsome if the choice was clever but similarly the giver would also know if they needed to try harder next time. The return, exchange or refund Queen did not tolerate unwanted gifts for very long.
A woman who has always known what she likes and what she wants. And lying helpless and seriously ill in a hospital bed is definitely not it.
Too much thinking during the flight brings on floods of hot tears. The kindness of a flight attendant prompts more. In the end I block out the rest of the world with music. Headphones on and the volume so high, it hurts.
The facts have not prepared me for this. The sight of her lying motionless and tiny in a hospital bed, attached to a plethora of wires and machines and dressed in a grey hospital gown. The gown. Clothes and jewellery are so important to my mum. Never knowingly underdressed and always perfectly co-ordinated. I'm sobbing and one of a team of considerate nurses quietly draws a curtain around the bed to allow me to absorb the situation they understand only too well.
Over the next few days I begin to realise how commonplace strokes are. On one particularly busy day it feels like the whole town is afflicted. Bed after bed is filled. A stream of shocked family members follow and for one relatively young man the crash team come running to rescue a failing heart. And yet, as the consultant explains, our mother remains his sickest patient.
How can this be? She is opening her eyes and there is recognition. Not a vacant stare but a response to our voices. She turns her head to us and tries to talk. It is hard to make out what she is saying and it is clearly costing her much energy to persist so this must be important. Listen, and listen hard. 'Bring clothes'. I repeat the whispered phrase. She nods and there is a trace of triumph that finally I get it. She wants to wear her own clothes! Of course she does. Sick as she is this is the first of many instances of how mum remains very present as herself, despite the damage that the doctors say has occurred. Do they really know? How can they be so certain?
That white- haired old lady over there is waving a cheery goodbye to the nurses and walking out of the stroke unit. People can recover. Some don't even appear to be ill! The woman in the bed opposite has four visitors and doesn't stop talking. She occasionally struggles to remember the precise word she needs but soon finds another. When the visitors leave, the nurses tell her she can move to the Rehabilitation Ward. I feel faintly angry when I see her gather her possessions and help move herself.
Over the next few days, we see signs of improvement. Some movement returns on the right side and some characteristic hand gestures signalling impatience, disbelief and love are evident. She turns her head to examine my earrings and touch my face. She inspects a necklace that she must recognise and feels the beads on my bracelet. I think she believes she is wearing a bracelet too but it is just the hospital name tag that she is sliding around her fragile wrist.
I have been dressing in layers since arriving back in the UK. After Dubai, it feels chilly here but mum doesn't seem to like the feel of certain materials. She pulls at my blouse and in the end I take it off as I have a sleeveless vest underneath. It's the feel of skin she wants so I lean in and all of a sudden she has both arms around me, holding me tight. We were never that tactile and it is heart–rending to feel her express this now and to see the need in her eyes.
The interventions, checks and commands are many and constant. Nil by mouth, infusions, injections, drips, blood sugar, heart rate, respiration, potassium levels, blood pressure, cannulas, catheters, oxygen levels, x-rays, NG tubes – the new language of high dependency that I am learning. Mum whispers a compliant 'OK' to every procedure, responds to the nursing staff as they call her by name and explain what they need to do.
By day seven she is showing signs of distress and frustration. Pneumonia has set in and a cocktail of antibiotics is not helping. So many obstacles and set-backs but still we remain unrealistically optimistic that our mother will outwit her 85 year-old body and make a miraculous recovery.
It is day nine and all the tension is lifted from her face now the wires and tubes have been removed. Just the oxygen mask remains and in shifts around the bed we breathe in unison with her as the morphine keeps her floating in dreamland. Breathe in and breathe out, mum! All morning we hold her hands and watch her breathing, willing her on. By afternoon the rhythm has slowed and when she holds her breath we do too. She finally takes a small breath. Just twice more. Then nothing.
At peace. My mum. Sylvia Rose Freedman 10th May 1930 – 25th May 2015.