I doubt Georgia would have been on my holiday radar from the UK, but that was then and this is now. The world map looks different from Dubai and the cheap flight schedules put Tbilisi, Georgia's capital, within easy reach. Georgia lies to the south of Russia, where Eastern Europe meets Asia and the flying time is only three hours from Dubai.
Black Sea beaches, beautiful countryside, mountains, caves, fortresses, monasteries and one of the oldest wine producing regions in the world, give Georgia plenty to shout about. Pride in the traditions and heritage of the country is tangible. Georgia's history has been turbulent, with independence finally won in 1991.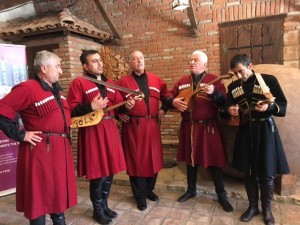 A precious cultural identity is celebrated in music. Every evening groups of musicians can be heard in bars and cafes across the city, entertaining locals and visitors with traditional Georgian songs.
In the Old Town area of Tbilisi there's a mix of lively bars and restaurants, restored old buildings, historic monuments and striking ultra-modern architecture, notably the magnificent Peace Bridge. The carved wooden balconies on many of the residential buildings are stunning and even the decaying examples have a photogenic grandeur to them.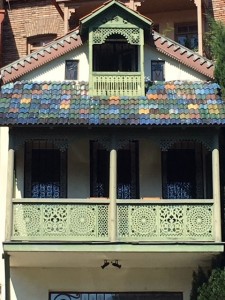 Tbilisi means 'heat' and refers to the city's naturally warm sulphur waters. A complex of domed bathhouses has been restored and work continues still. Looking around the area we noticed what we thought was an Iranian mosque. Later we learned that this too is a bathhouse, not yet open to the public, due to ongoing restoration work, but deliberately fashioned in the distinctive Iranian style with decorative blue and turquoise tiles.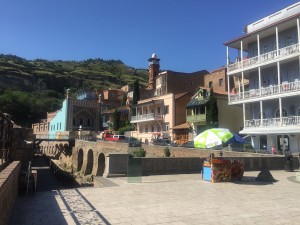 Exploring the side streets and alleyways leading away from the main thoroughfare, most of the buildings are in various stages of decay, some being held in place by metal supports. Families still live in these buildings, and judging from the piles of rubble it seems a hazardous existence. Hopefully the regeneration of the Old Town will extend to these areas soon.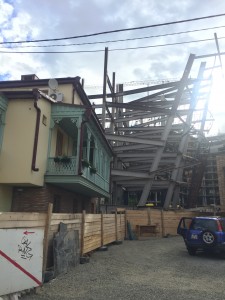 It was in this unlikely setting that we happened upon the Culinarium Cooking School. As luck would have it the School's proprietors were taste testing cakes from a local patisserie as we stumbled in. With tea supplied, we were invited to give our opinion on the products. It's hard to imagine a better welcome to a country than that!
The husband and wife team are food consultants to many of the city's producers and restaurateurs and were more than happy to give us some top tips on local food and drink. They even helped us secure a coveted table at Barbarestan, one of the best restaurants in the city. The menu is based entirely on a 19th century Georgian recipe book, found at a flea market. As restaurant concepts go, it's 'out there' but the food didn't disappoint.
Cold vegetable starters included an aubergine and garlic dip and a dish of thinly sliced courgettes, covered with satsivi, a cold walnut sauce. Delicious, lightly toasted flatbread complemented them both. Perfectly pink duck with stewed pears and a chicken and aubergine dish followed. The classic style local red suggested by our server was among the best we tasted on this trip.
With time of the essence, the free walking tour around Tbilisi was the best way to get acquainted with the main sights and the city's many ancient Georgian Orthodox churches. Georgians are deeply religious and most of the churches we visited were crowded with local worshippers.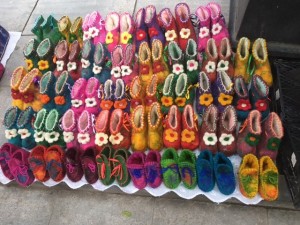 Our American guide explained that the widespread corruption of the past had now been reversed. Prime Minister Giorgi Kvirikashvili, previously, the leader of the Georgian Dream coalition, won an overwhelming majority at the last election in what appears to be a highly significant and positive result. Given the current dire state of UK and US politics, I'm a little envious of Georgia's sense of optimism. Imagine having an inspirational leader, with a mandate for a peaceful 'reboot' of the country. If only.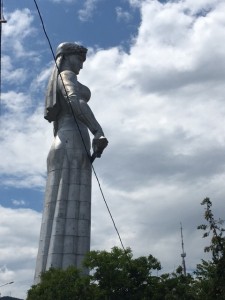 Watching over the city's fortunes, and visible from our hotel room, the statue of Mother Georgia, a twenty-metre high aluminium figure, represents the Georgian national character. In her left hand she holds a bowl of wine for those who come in friendship and in her right, a sword to deter enemies. Our guide took us up the hill on foot for a statue's eye view across the city.
Cable cars ferry visitors up and down Sololaki Hill all day long to explore the various monuments and viewing points. With eyes shut throughout I just about managed the descent without a panic attack. Cable cars are just not my thing.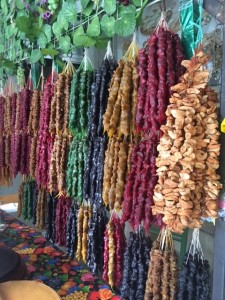 We'd noticed lots of intriguing edibles on our wanderings and our guide had given us a few pointers on some typical local food to try. Stalls selling churchkhela are everywhere. Is it a type of salami or a candle? Neither. This is Georgia's most popular sweet snack, made from thickened, concentrated grape juice and walnuts. It looks better than it tastes, to be honest, and the highly coloured versions are to be avoided. True churchkhela should be the same colour as the red or white wine that it's made from. Gaudy blues and greens are pumped full of colouring.
The most sophisticated interpretation of churchkhela we had was dessert at Barbarestan where the red grape juice appeared as a lightly set jelly on a base of crushed walnuts, finished with a caramel sauce. Oh yes.
Georgians like walnuts and aubergines and make use of them in different ways. Walnut oil replaces olive as a dipping accompaniment to bread. Finely ground nuts might be sprinkled on top of a fresh tomato and cucumber salad and can also be added to chakapuli, a hearty meat stew. There's various versions of this, depending on the season. In the summer the sauce can include sour plums and chunks of aubergine. It reminded me of some of the dishes I ate in Iran. Georgian cuisine has its own traditions but the spicing and ingredients favoured by invaders and traders over centuries has left its mark too.
As a wine producing country of note, Georgia's drinking culture is huge and local wine shops are everywhere. Coming from the UAE it was a bit weird to see encouraging slogans outside restaurants and bars, suggesting that wine consumption is the solution to most problems! Despite this we didn't see any evidence of drunken behaviour anywhere. Time to dive in and consume!
At a wine bar we ordered the Georgian 'tapas' menu, as way of sharing a few dishes in one sitting without being overstuffed. Our very helpful waitress gave a useful explanation of the two types of Georgian wine. In brief, the classic style comprises reds and whites, made with Georgian grape varieties in the European tradition of winemaking. By contrast, traditional qvevri wines are made in earthenware pots, stored underground during the fermentation process. Grapes, skins, seeds and stalks are used. We tasted several quevri wines but found them too dry to be enjoyable so we stuck to the classic style.
To accompany the wine, kupati, a spicy Georgian sausage, served with a plum sauce and buttery mash soon disappeared. The sausage filling was course cut and probably contained some bits of pig that that we wouldn't have chosen to eat, but the peppery spices worked their magic. Just as welcome was the little dish of beef and pork meatballs, fragrant with rosemary and made even better with a spicy tomato dipping sauce.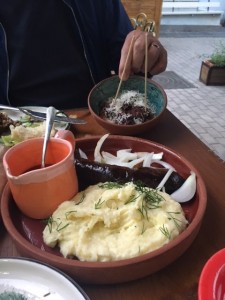 Our appetiser of bread and walnut oil had largely satisfied the carb craving, so the dish of fried potatoes that came after the sausage and mash was hardly touched. But hang on, that's four dishes and the menu said five. Oh no! Our waitress was clearing the space needed to set down the enormous khatchapuri that completed our order. Khatchapuri is bread stuffed with melted cheese – this was a version of that, but a portion big enough to feed the population of a small country. The Georgian equivalent of an after dinner mint. It can come with a fried egg on top. Travellers prone to indigestion, beware!
On our last full day we took a tour through some of the spectacular Georgian countryside. Tours on a mini bus with a driver and a guide are easy to find and inexpensive. Ours took in several beauty spots and sites of religious significance as well as a wine tasting and tour of the Khareba winery. The Bodbe monastery site was particularly serene and well cared for as it houses the resting place of St. Nino, a revered female figure in the early history of Christianity.
Our final destination, was Sighnaghi, named 'city of love' because the registry office is always open and couples can get married without having to first file official documents. The Georgian equivalent of Gretna Green. Sighnaghi is on a hill and the steep climb up to the viewing point came right at the end of a full day's sightseeing. It was well worth it for the view across the rooftops.