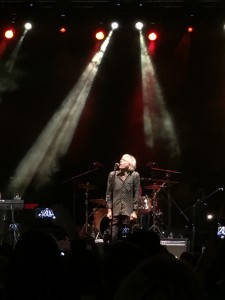 I may be in Dubai but I'm keeping a careful ear to ground for any news that Bruce Springsteen is back on the road. Shortly before we left the UK it was announced that all plans for a rumoured tour to Europe have been put on hold till 2016, so now I have a huge gap in my live music addiction to fill. Tim's guitars are still making their way over here (another story) and until they arrive he will frankly find it a bit tricky to join a band. Air guitar can only get you so far.
A soon as we landed here we heard that Bob Geldof would be making his annual St Patrick's Day pilgrimage to Dubai to perform at The Irish Village-a haven for expats dreaming of drinking a pint of Guinness in their summer clothes. So here I was, waiting on the grass for the main man, not quite at the front of the stage as I try to be for Bruce, but near enough to feel involved and quite excited.
I was never a big fan of the Boomtown Rats, though the obvious charisma of the lead singer and his most famous composition, inspired by a schoolgirl's shooting rampage, gives them massive cred. All Bob Geldof's subsequent achievements and losses seem to have hijacked his original career as a singer/songwriter so this gig was a bit of an eye-opener as to what might have been.
The monumental family tragedies, all painfully played out in the public arena and with consequences that required him to be a very present father to several needy daughters have no doubt had an impact on his musical activity. No wonder then, that with unkempt hair a whiter shade of pale and sharp business suit replacing the unwashed jeans, the elder statesman of punk admits that these days THAT song is the only reason he still gets any f****ing gigs at all.
As far as celebrity campaigners go, he is an icon. Band Aid, Live Aid and his eloquent and vociferous efforts to engage decision makers on the issues of poverty, famine relief and more recently, Ebola, are consistently headline news. In a concert which veered effortlessly from rock to reggae to an Irish knees up, one song, written when he returned to Ethiopia some years after the famine and when he was going through a bad phase in his own life was particularly poignant. The people he met, the simple food they shared and the success of a project funded by Live Aid, which was giving the villagers the means to grow different crops, he said was transformative.
The voice, eerily like Dylan on some songs, notably the touching Dazzled by You, can also still rock it for Mary of the Fourth Form and deliver the attitude required for Rat Trap. Minutes later he was orchestrating the audience in a hi-diddly-di-singalong in honour of St Patrick. I never realised he was that versatile.
He still has bucket loads of charisma and the good sense to surround himself with a band of outstanding musicians, including the lead guitarist who delivered some blistering solos in comparison to Bob's pedestrian strumming. It was Tim who spotted that Bob plays his guitar upside down something that is well known amongst guitar aficionados. The violin and mandolin player may have cut a workmanlike dash, when he stripped down to his vest but boy could the man play.
We were all waiting for THAT song and wisely it came mid-set, just when we least expected it. A song written in 1979 about the banality that fuelled a US school shooting is as relevant today as it ever was. Singing back the words to I Don't Like Mondays to Bob Geldof was pretty special. That'll do till Bruce calls.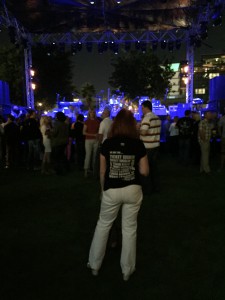 I wondered how long into the gig it would be before either Josh Widdicombe or Jack Dee mentioned tax free earnings to the sell-out crowd at Dubai's World Trade Centre. It was rather further in to Jack Dee's peerless set than expected but it was a relief when it came all the same. You can't call yourself a comedian, come to Dubai and fail to heckle the mostly British audience on that point. If you happen to have Jack Dee's talent for turning grouchiness into an art form then so much the better.
By its nature, stand –up comedy doesn't easily stretch to a whole evening format. It seemed an age before the young pretender Josh Widdicombe bounded on for half an hour of his well-worn material on Devon, his mum's protective attitude to wheelie bins, Coco Pops, homemade jam and the lamentable performance of his iPhone battery.
The trademark, high pitched pay off lines worked their magic well enough but somehow it all seemed a bit too predictable. I would have been more impressed if he had sought to challenge himself with new and specific observations geared to the Dubai crowd. For a funny man that specialises in being constantly incredulous, he couldn't have landed in a better place. Shame he didn't mine it for all it was worth to give us a few new thoughts in his 30 minutes on stage. Given the comfort level of the seats at this venue, it was perhaps fortunate that an extended interval preceded the headline act. A tactic designed to fool us into thinking we were getting a full evening's entertainment, I suspect.
The first unscripted observation from Jack Dee was spot on. The venue did resemble the interior of a warehouse and was just as welcoming! The scripted material, delivered from the picture-of-misery face that is Dee's calling card were a series of extended and often rambling tales of woe, peppered with some dry and witty observations on the Dubai Mall and the misuse of the term 'expat' when 'immigrant' is surely more appropriate.
The characteristic bad week he was having was the hook to hang extended riffs on the electricity supply, adolescence, giving directions to strangers, taxi drivers and set pieces on family life that anyone familiar with his Lead Balloon series would recognise.
A consummate professional at the top of his game, Dee has mastered the performer's art of deception. With all the backtracking and going off at tangents it appears as if these thoughts are occurring to him for the first time. I'd like to believe that if I caught him on another night his stories would be told in a different order.
No one could accuse Jack Dee of rushing on and off. A full hour and half on stage and possibly a minute or two more than he planned, thanks to the pesky fly that got in on the act, mid-tale. If the seats had been more comfortable I would definitely have been shouting for more.