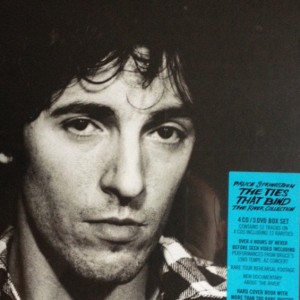 These days, being a Bruce Springsteen fan is a tough call. If you have a friend that is a Bruce Springsteen fan, then please be kind. Take it from me they are experiencing a roller-coaster ride of emotions right now and they will need your support for a little while longer.
Witness my own behaviour. For the last few weeks most of my friends in Dubai, and certainly my long suffering husband, have been conducting a conversation mostly with the top of my head as I have been constantly checking my mobile phone for leaked news of the much rumoured tour to Europe.
I really haven't been in the moment – or this place – in my head. Start a social media campaign to bring the Boss to Dubai, Tim suggested. Nah, Please. I have no time to waste on such a hopeless endeavour. There are many more worthy places that have yet to see Bruce Springsteen perform live. Europe, however is known to be a favourite with the main man. Cities in Scandinavia, Italy and Ireland have famously hosted the if-you-weren't-at-that one-you missed-THE-one-to top-all the others kind of concert. The truth is every concert is a stand out, historical event for the devotee and none more so than on this tour.
The River Tour 2016 kicked off across North America in January 2016 and Bruce Springsteen's fan base in Europe have been sharing the joy for several weeks now on social media. Reviewers' superlatives have been flowing like the legendary River itself from Pittsburgh to Atlanta, via Chicago, Washington, Boston, Florida and all the rest, whilst the bandleader continues to shrug off his 66 years, re-invigorating a double album of fan-favourite music with the consummate skill of a seasoned entertainer and all round great guy.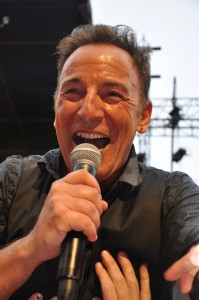 How much longer can he continue to do this? We already know that the next release is a solo project. There is something altogether wonderful about Bruce with the full band so if this could be the last chance to experience that for a while, no die-hard fan wants to miss it.
As witnesses take to Twitter to report the greatest, the longest, the most transformative, the tightest, loosest, roof-raising, booty-shaking, nuanced performance EVER, our voices have been shouting as one, "Yes, but when is he bringing the show to a city near me?"
When solid information is missing, many are standing by to fill in the gaps. For a Springsteen fan with a hungry heart we are a captive audience. Often some of the rumours do turn out to be sort of right in the end, but there are so many conflicting whispers it becomes very difficult to know which ones originate from a plausible source and which are just in it for their own ego. Passing information on in good faith can often result in the messenger being blamed for what turns out to be an inaccurate message!
It goes something like this.
What did you hear?
Well, my cousin was in a bar with a friend that used to work down the road from the Italian promoter and she said she was looking over his shoulder as he was ticking off a list of dates and venues on the back of an envelope. Not official yet of course but this source is rock solid… blah, blah, blah.
There is a small window of opportunity in these situations because rumours can become official in the wink of young girl's eye and the impact on hotel prices is immediate. Those that have some experience in these matters will, at this early stage, be researching flights to the city in question and googling budget hotels in the immediate vicinity of the relevant stadium. Securing a room either side of the speculated date on a no payment up front and no penalty on cancellation basis is a godsend.
Of course being in Dubai right now doubles the anxiety. When should we fly home to catch the UK dates? Where should we fly to? For some, yet to be fully understood reason, news of the European dates has been released very slowly, country by country. Rumour had it that the UK announcements would come this week. Ha! A swift look at my Twitter feed caught the first confirmed UK dates by chance as they hit the channels early on Friday morning. Two minutes later my partner in Bruce crime in Yorkshire was on the case to confirm a tentative hotel booking in Manchester made on a lucky guess some weeks back. Meanwhile we grabbed two of the few rooms left in Coventry. So far, so good, but the anxiety is ramping up now as the tickets for one, or preferably two concerts have yet to be secured. That is a whole other story.
Come May, I could be waving from the Riverside or drowning in tears should the Ticketmaster River run dry? Bear with me, friends.