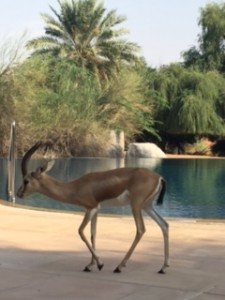 I feel like I've been hibernating indoors for the past few months but now that the constant, searing heat and humidity is abating I'm venturing out of my air-conditioned protective shell again. Of course, my really sensible friends high tail it out of Dubai when the heat is on and only return when the worst is over, but staying put for most of it has been an interesting challenge.
A couple of writing projects have kept me busy indoors, and I've been motivated by the thought that having a block of time to really focus is precious and will soon be gone. Dubai is a 'feast or famine' sort place. There can be nothing much entertainment-wise going on for weeks and then everything seems to suddenly ramp up and special events, invitations, recommendations and new attractions all come along at once to fill the spare time.
Dubai's new Opera House only opened its doors a couple of months ago so looking out for a show in the first season that we would both enjoy, has definitely been on the radar. Then a friend recommended lunch at the luxury Al Maha desert resort. Time to seize the day. The planets somehow aligned and website booking systems seemed to work, (most unusual) so we managed to book a fabulous lunch package in the desert and tickets for a world class flamenco show at the Opera House. All on the same day. Like I said, feast or famine.
First to the feast. Al Maha is one of those out of town attractions that cause most people to choke on their champagne when they find out how much it costs to actually stay there. The lunch package by Dubai standards is affordable and perhaps because of this I was a wee bit doubtful that it would be anything special. I couldn't have been more wrong. The location, hidden deep within Dubai's Conservation Area makes a visit a proper desert adventure. The complex of tents that surround Al Maha's suites and spa are only visible after a considerable drive through the sand dunes. Once there, the Bedouin heritage design of the resort and public areas is not strikingly sumptuous or ostentatious which would strike a false note, but the interiors are well appointed and attractive – just what you need to relax, and indulge.
It was still too hot to eat lunch looking out into the desert from the terrace but the main restaurant was just as inviting and the white linen tablecloths, a promise that this was going to be the fine dining experience we hoped for. Lunch is a three–course affair and though the menu choices are fairly standard there is ample choice. So why did we come away thinking that this was amongst the best meals we have eaten in Dubai?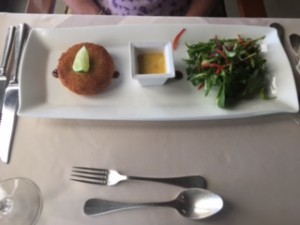 Firstly, the kitchen uses top quality ingredients and prepares simple dishes, very, very well. There is nothing particularly complicated about a salmon fishcake and a bowl of pumpkin soup but I have eaten very poor examples of both in other places. Here the soup was creamy, well-seasoned and actually tasted of pumpkin, the fish cake coating, crisp and golden, with a satisfying ratio of fish to potato. Everything looked and tasted the best it could be.
At first I wondered if the Hollandaise sauce that accompanied my fish cake had split, but it turned out the unusual texture was grated lemon grass for a subtle Asian twist. I'm not sure the addition was entirely necessary but I was deeply impressed that the waiter could supply the answer to the question, which adds up to the third reason why I would go back – properly trained, helpful staff instantly take the dining experience to a different level.
Our main courses were equally impressive. There is nowhere to hide with a fillet steak or grilled lamb chop and the flavours here were outstanding and the portions generous. I don't usually order fillet because it generally lacks the flavour of the fattier cuts but this was another triumph. The best was yet to come so just as well we left a bit of room.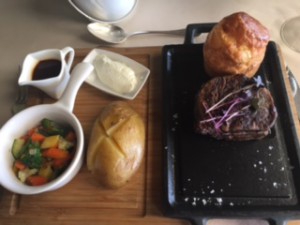 Desserts are a little more elaborate, so big cheers for the pastry chef. It was a tough call but we went for a yuzu and ginger crème brûlée and a cocoa nib dacquoise, (a layered meringue), with a passion fruit curd and banana sorbet – both excellent.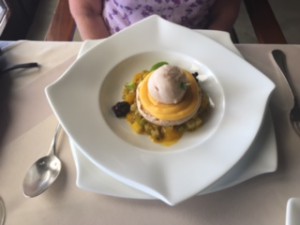 We were just tucking in when a third dessert arrived. Oh no, that can't be ours, we pointed out. It turned out that chef had sent us a complimentary chocolate fondant tart because he thought we just might like to try that as well. How often does that happen?
Many of the suites have private pools and courtyards but the pool area at the spa is very comfortable. Wildlife roam around freely outside and we encountered a family of gazelles grazing close by. A cheeky one even sauntered through the pool area while I was taking a breather on a sun lounger.
The desert is just over an hour from the centre of Dubai, making the creation of a nearby modern city an even more remarkable achievement. The approach to the new Opera House, and the coloured lighting and water sculptures outside, are just another example of Dubai's supercharged development programme.
We had come to see the flamenco superstar, Sara Baras touring her latest show Voces. Lots of the female tickets holders were channelling their inner Spanish diva in their wow factor outfits. You can never be overdressed in Dubai! I'm glad we got there early to take it all in and appreciate the beautiful wood panelling and glass interior of the building, inspired in design by the shape of a traditional dhow sailing boat.
Baras not only stars but also directs, stages and choreographs a show that pays tribute to six flamenco luminaries who have greatly influenced her work. Without knowing much about the other exponents she is in debt to, we probably missed some of the subtleties of the performance, but none of the passion and drama of seeing live flamenco performed by an artiste at the top of her game.
Most, though as Tim noticed not all, the music was performed live with various sections of the show introduced by pre-recorded Spanish narrations. I felt a bit excluded by not being a Spanish speaker and it was a little disappointing that no translation into Arabic and English was provided.
Baras led a company of fifteen performers, including the compelling Jose Serrano. Whilst much of the thrill of the performance is created around the intensity and speed of the dance, I enjoyed the moments of contrast and control Baras displayed when making the barest contact with the floor.
When it comes to applause she is in a league of her own in demanding every corner of the house gives her full and well deserved appreciation. Watching her use her whole body to tell us what she expected us to do – and with more appreciation, if you please – was a masterclass in the art of silent communication. Brava!