Our final stop is Tehran, Iran's capital city, a sprawling metropolis of eight million people where we hope to glimpse a little of the modern Iranian lifestyle. Our friends Saeid, Rita and their dear little boy Sherwin are our guides. Aged four, Sherwin is a fan of the children's characters Topsy and Tim and is delighted to meet a real-life Tim. That makes me Topsy. Even though we don't seem to behave much like the story book people, he seems happy enough to share his Mum and Dad with us for a couple of days.

We arrive on the anniversary of the death of Fatima, the prophet's daughter. We noticed the black flags displayed on public buildings when we left Isfahan, and in Tehran, evening prayers are taking place at a shrine close to a local bazaar.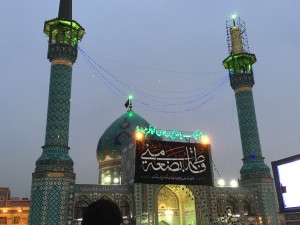 As we walk through the bazaar, Rita explains that everyone shops here, rich and poor alike. It's a great leveller. I can see why. It's a cook's paradise for a start with fresh fruit, vegetables and cookware at every turn. The sacks of tantalising spices, teas, dried fruits and nuts look so attractive that we are easily persuaded to make several purchases. At one stand they're cooking baby beets and selling them like kebabs on a stick – my kind of street food!
I've developed a taste for saffron, the highly prized spice, used to flavour and colour food. Iranian saffron is the best in the world and just a few of the tiny red filaments brings a vivid yellow colour to rice or plain yoghurt. It has health benefits too, apparently. I didn't think I liked the taste but I've probably based my opinion on the inferior quality you find on the average UK supermarket shelf.
And with top quality Iranian saffron, comes a kitchen gadget that I've never seen before- a saffron grinder. Every home needs one to reduce the strands to a powder, thus making the supply of the precious stuff go even further. Sold! Luxury items as well as provisions are available in the bazaar too. In Isfahan, I took home a silver filigree necklace with a lapis lazuli stone. In Tehran, I'll treasure a beautiful turquoise and silver bracelet, a gift from our hosts.
Iranian culture places guests at VIP level and the generosity shown to visitors to the country generally leaves a lasting impression. Here's an example. Rita takes me to an exhibition and sale of decorative homewares. This is well-timed to coincide with the preparations for the Iranian New Year – a time when new items for the home are traditionally purchased. Unlike the bazaar, this has an air of exclusivity about it. The venue, in the middle of a public garden, attracts lots of beautiful, well dressed ladies.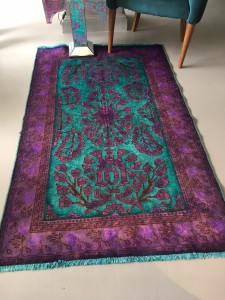 I hadn't really planned on purchasing anything. Most of the items are too large for our suitcase but it's nice to browse as there are some gorgeous pieces. A small metal bowl lined with bright blue enamel catches my eye. That wouldn't take up much space.
Paying for anything in Iran is a little complicated as there are two currencies – the Rial and the Toman. American dollars are also acceptable in some shops and it is these and only these that I have in my purse at this moment. This is effectively a pop-up shop and the charming assistant is not set up for US dollars. 'You're a guest here, take it as a gift, from us,' she says with a smile, 'Look I will make a note right here on my list that we are giving you a present.' She even wraps it for me. Would this happen anywhere in Europe? I don't think so. Utterly charming.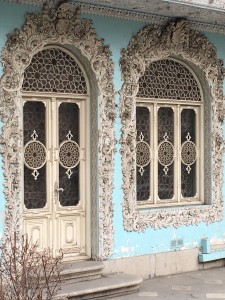 Also located in the garden is the Museum of Time. The building, with its ornate architecture and decorative mouldings is as interesting as the collections of clocks and watches it houses. On the top floor, quirky modern artwork using watch parts to create imagery, is a nice surprise.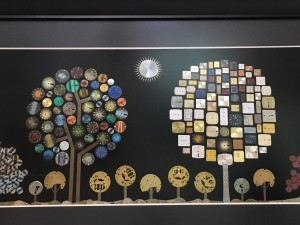 While we're exploring the treasures in the garden Tim and Saeid are driving to the snow covered slopes for a cable car ride, just twenty minutes away from the city.
After all that activity we go for lunch at one of our friends' favourite places, the wonderful Narenjestan – one of Tehran's top ten restaurants. The dining area has a great view of the city but it is the five star standard of food and service that makes it special. Our waiter, educated in London many years ago speaks impeccable English.
The menu features Persian, international and seafood dishes and everything we order is first class in presentation and taste. Live classical music too. A memorable conclusion to our six days in Iran.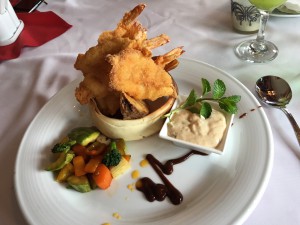 Iran is a country that can't fail to impress and our experience, exceeded all expectations. The warmth and generosity of the people, the incredible history, art and culture is truly enriching and so at odds with everything we are told. We can only hope for better understanding in the future.
And the headscarf? Is it a problem? All women must wear a headscarf in public in Iran, by law, including tourists. It's controversial and I didn't much like it, personally. Two out of three Iranian women I asked would prefer not to have to wear it. That said, I saw many women who really rocked the look in a way that almost made me envious. Younger women wear it as far back as they dare and there are of course, designer scarves with colour and pattern to add plenty of glamour and chic. Women will always find a way to show individual style and personality, whatever the rules!