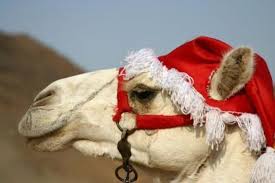 It's hard to believe our second and last Christmas in Dubai is fast approaching but the calendar doesn't lie. A momentous decision has been made and so far, no regrets. Lunch on Christmas Day will be a home-cooked affair and a turkey, currently enjoying an organic life on a farm somewhere in Tipperary, is destined for our table in the UAE.
As the song says, it's a long way to Tipperary, especially from Dubai, but such is the price us expats pay to recreate our traditions when abroad. If Yorkshire farmers supplied Waitrose in Dubai Mail my joy would be complete, but I am grateful for what I can get, even if the price reflects the said turkey's first class air ticket over here.
With Thanksgiving recently celebrated and the season of goodwill now upon us, the festive fowl is readily available in Dubai. You just need to decide where you want it to come from and how you want to receive it. I've been offered turkeys from Germany, Hungary and from 'local' unspecified locations. Some claim to be organic, others have been sitting frozen in supermarket cabinets for months, whilst strangely, the occasional fresh bird might appear unannounced on the poultry counters at any time of year.
There are hundreds of lavish venues, laying on the festive Christmas with bells on. Last year we celebrated in style at a gorgeous hotel close by. Lunch was wonderful, the choice of dishes huge, but, well, if I'm honest, the traditional stuff wasn't the best thing on offer that day – the barbecued seafood and seared scallops were the draw. The turkey lacked flavour and some of the 'trimmings' weren't quite right. Next year, I thought, I'll cook it myself, just like I do at home, but going out or cooking at home are not the only choices. This is Dubai, after all.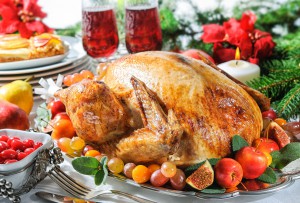 Many people will choose to have their Christmas meal cooked and delivered with all the accompaniments ready for the table, on the day. Adverts showing a golden bird, surrounded by crisp roast potatoes, lush green sprouts and shiny cranberries look tempting enough and there is no shortage of businesses ready to make it happen, for those that prize convenience over effort. I just don't fancy handing the whole responsibility to someone else and then being disappointed when it doesn't taste home-cooked and traditional – which it won't. If I muck up, then the buck stops with me. I also quite like to know where the bird has come from and if it had a happy and stimulating existence before it realised its raison d'etre. That one last year tasted bored!
So I shall shortly be making shopping lists, digging out those tried and tested stuffing recipes once again and wondering if one of my offspring can slip a Bettys Christmas pud in his hand luggage. And perhaps, ventures Tim, Marks and Spencer in Dubai will have that seafood starter we always like? Before I know it and against my better instincts I could easily go overboard. Better to concentrate on the turkey and the accompaniments. Perhaps, in this lovely climate, a lighter touch for starters and dessert is required anyway.
This could be the Christmas when, for the first time ever, I get the food in proportion to the number of diners. I don't have the fridge and freezer capacity to create a banquet for a small country in advance or start hoarding as if food shortages are imminent. Plus, the oven is smaller, so a turkey of modest proportions is called for. Everything will be prepared fresh on Christmas Eve, to be consumed at its best, the next day, with only one meal of leftovers, max – not counting the stock that will be made from the turkey carcass. It would be rude not to, seeing as it will have travelled all this way for our delight. This is my challenge. Wish me luck. Merry Christmas one and all.