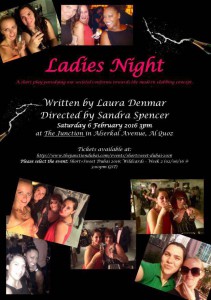 It's a year since we started our expat adventure in Dubai and in keeping with my general aim of making the most of this fast moving experience, I will be making my entrance on the Dubai stage in the Short and Sweet festival this weekend.
Short and Sweet is the largest festival of ten minute plays in the world and the buzz around it is really exciting. Over six weeks, talented writers, directors and actors will present more than 80 bite-sized plays to packed houses and much applause.
It's a vehicle for just about any and every theatrical form and topic but it is also a competition that everyone wants to win. Last year I was in the audience at the Gala night when the programme featured the winning plays and performances from Short and Sweet 2015. This year I'm on the stage and the view from up here is rather different. I will have new friends in the audience willing me on and am part of an ensemble cast that I want to do my best for.
Back in November the audition process, which puts some actors in front of some directors, made sense but in reality a significant proportion of the plays are cast at a scarily late stage. Some inevitably have to be re-cast for a second or even a third time if actors prove unreliable. There's a lot of distractions in Dubai and all the people in the world that are easily distracted seem to reside here.
It takes a huge amount of commitment to see something like this through from start to finish and in Dubai that can often be a problem. It calls for a strict rehearsal schedule which is often hard to stick to as most people work such long hours. Traffic on the key routes also conspires against anyone being able to get across town by a set time. Even if the roads are clear a hapless taxi driver may not be familiar with the rehearsal address.
The plays are only ten minutes long so every second counts as far as the script and characterisations go. It has to be slick, concise and clear from the get go and the biggest danger is running over time. A second over the allotted ten minutes means instant disqualification. Scripts may have to be ruthlessly cut and relearned whilst technical business has to be perfected on the hoof and in less than ideal spaces. Meanwhile time is ticking by on the number of opportunities left to get it right before performance day.
All in all it certainly looked a lot less challenging when I took my seat for the show last year. I have been working on pushing myself out of my comfort zone in the last few months and taking part in Ladies Night is certainly that.
The play is a wry look at how the rituals of a typical club night in Dubai makes fools of the women that attend. Research for the role involved attending one of these notorious club nights. I learned a lot. Mainly that most of the women present were relying on significant quantities of free champagne to push themselves out of their individual comfort zones and in some cases their dresses. I shall be channelling it all on Saturday afternoon.
'Break a leg' is the usual expression of good luck bestowed on actors, but given the height of my heels and other challenging parts of my attire, plus the fact that I haven't done this kind of thing for a while, I don't want to tempt fate.
Instead I will take, 'allow plenty of time to get to the theatre and – enjoy it.' Also applicable to the audience!