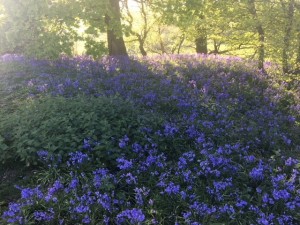 We're back! After two and half years in the adult playground-cum-sandpit of Dubai we return to the motherland, free as birds. We could live anywhere in the UK we say. Yorkshire was a beautiful home for many years, but we fancy a change (and a kinder climate,'cos after Dubai, we're wimps). Many viewings later, across several southern counties, we find The One.

Eight months on and here we are, in a new and permanent home, on the rural borderlands of Essex and Suffolk. The house is in Essex but down the road the signs announce a welcome to Suffolk. Landscapes and views that inspired Constable and Gainsborough are all around us.
'Oooh, you've chosen well here – gorgeous spot and the driest place in England, this is,' say the array of tradesmen with Suffolk accents that come to the door in the first few weeks of our arrival.
The south-facing garden, predicted by the same locals to be akin to a Spanish holiday resort for most of the year, remains stubbornly uninviting. For weeks we endure unprecedented amounts of snow, relentless, driving rain, hail and wind, and can only stare at the garden through closed windows.
In truth we didn't choose the place, we chose the house, but now the sun has come out we realise that our hunches were right. There's a lot to love here. First off, a weekly fresh food market in Sudbury, our nearest town. Finally, buying, cooking and eating fresh local produce is not aspirational – it's what everyone does! And it's good to see that the best, tastiest stuff is not presented in a gussied up 'food emporium' where the prices only appeal to the well-heeled. Harrogate, I think you know what I'm talking about.
This is a proper and popular food market, with cheeky sellers either calling out the prices or, in the case of the fresh fish van, chalking up the day's bargain catch. I note that the cod I buy is double the price at the supermarket counter that day. There's also some quality fruit and veg to be had and tasty meat sourced from a farm, a mile or so up the road. To date, rib of beef, bacon, sausages and chicken have been tried and tested. Superb, and a fraction of the price at nearby Waitrose – other supermarkets are available.
Of course, 'local' needs to be seen in context. No one is pretending that the sweet and juicy blood oranges are home grown, but who cares if they taste this good? A bunch of vibrant mint purchased here lasts a full week and is infinitely preferable to a plastic-wrapped specimen that wilts after a day. Neither is locally grown but I know which I would rather have.
I may be a newcomer but I'm swelling with pride for Sudbury and inwardly amused that one of the stallholders is selling dates imported from Iran. In your face Donald Trump!
Sudbury market rolls into town on a Thursday but with a little local knowledge it soon transpires that smaller scale producers are in abundance. Lots of people keep chickens, box up the eggs and offer them for sale outside their homes. A modest payment is left on trust.
On most weekends you can find smallholders selling veg, rapeseed oil and even spirits on a village green or farmer's market somewhere nearby.
The local community have been extremely welcoming. The removal van advertising our arrival, effectively blocked the lane for two days, but no one seemed too bothered. A steady stream of kind-hearted souls, bearing cards and gifts introduced themselves, always ready to answer our dim questions about the rubbish collection and much else that us townies found mysterious in those first few weeks, when snow and ice halted normal activity.
Tim is making contacts in the extensive live music scene round here and me? I'm back to writing. Got that book to finish….