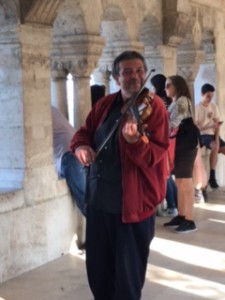 With elegant cafés, stunning architecture and history around every corner, there are a million reasons to visit Budapest. Our visit to Hungary's esteemed capital city was a chance to catch up with old friends in a fabulous destination. By good chance, flight times to and from Dubai and the UK worked out, giving us a three-day window to get a flavour of what makes Budapest special. We knew we wouldn't see it all but we could give it our best shot.
Budapest sits on the River Danube and is a city of two halves – Buda and Pest. Both sides offer some spectacular views and attractions but are quite distinct in character. The Pest side is where most of the city's main hotels, restaurants, shops and bars are located and is a great base from which to explore. The Parliament building and the Opera House are also here. The higher Buda side has some of the most spectacular historic buildings and fantastic views of Pest. The funicular railway is a charming way to get up to Castle Hill and the various vantage points.
While were waiting for our friends to arrive we did a quick recce around our area in Pest and found we were within walking distance of St Stephen's Basilica and a view of the impressive Royal Palace across the river, which is floodlit after dark.
It took me precisely five minutes to discover that Gerbeaud, the famous café and cake shop was close to our hotel, though perhaps its very proximity made us a tad complacent about opening times. Cake cravings, need to be satisfied before 9pm to avoid acute disappointment at this upmarket establishment, as we discovered on night two. On day three we weren't taking any chances. Cakes and sundaes were ordered shortly after breakfast. It had to be done. I loved the Esterhazy cake – a light-as-air five layered sponge, with buttercream, walnuts and a feather iced topping. This is by no means the only quality cake show in town, though.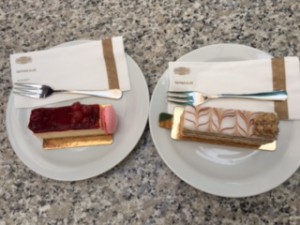 With beautiful blue skies and temperatures inching up to a promising 23° on our first morning we headed off on foot to the atmospheric Jewish Quarter, passing the Great Synagogue, with its beautiful Moorish style decoration and distinctive towers. The largest synagogue in the world and its associated museum was closed for the Jewish Passover holiday but with such glorious weather none of us fancied stepping out of the sunshine anyway – except for breakfast of course.
The main covered food market is just across the road and is a glorious celebration of the nation's produce, with stall after stall of colourful fruit and vegetables, hundreds of deli sausages, pickles and the staple spice of paprika. Hungary is a nation of makers so home-produced leather goods, wooden toys, hand crafted jewellery and embroidered goods on the upper floor were interesting to browse through too. What a change from the usual imports and chain stores that dominate Dubai! Realistic prices too.
When the weather changed on our final morning a handy flea market offered some respite from the pouring rain and harsh wind. Here the prices were less good and no one seemed willing to negotiate downwards for a sale which was surprising as the quality and provenance of some of the goods was dubious, to say the least.
The maze of streets in and around the Jewish Quarter are also home to the 'ruin' bars and clubs where Budapest parties on a nightly basis behind the battered doors and shabby chic facades. The ghosts of the previous inhabitants are very present here and especially in and around the courtyard tribute where a part of the original ghetto wall has been reconstructed as a stark memorial to victims of the Holocaust. A more beautiful metal tree sculpture stands as a tribute in the garden behind the Great Synagogue. The family names of some of the murdered victims are etched on the leaves.
An even more affecting reminder of the associated atrocities that took place in Budapest during 1944-45 can be seen by the riverside. It was here that Jewish men, women and children were lined up and shot so their bodies fell into the river. This dark history is illustrated through metal representations of the victim's shoes, randomly placed along the edge of the promenade. Many have flowers, stones and candles recently placed in them. The impact of such commonplace, yet individual, personal objects bears witness to the terrible story they tell.
Behind our hotel a craft market and traditional food stalls were doing brisk business in the evening. Hearty Hungarian specialities of goulash soup served in a round loaf, confit goose leg with red cabbage, paprika-spiced sausage, pork knuckle and roasted peppers, plus free live entertainment from a Simon and Garfunkel tribute act, pulled in the crowds. Presumably Paul Simon, being the son of Hungarian immigrants, offered a flimsy bridge over cultural waters.
Cheap and cheerful food stalls one night and a fabulous sit down dinner the next at the smart Kollázs Brasserie at the Four Seasons hotel. Dishes of melt in the mouth scallops, foie gras terrine, belly pork, lamb shank, rib eye steak and beef cheek with goulash jus. Fantastic! Amazingly, some of us still managed desserts of chocolate lava cake, crème brulée and a dulce de leche tart. Prices per head, with wine and coffee a reasonable £35.
Music and musical heritage is everywhere in Budapest – from the Ferenc Liszt Memorial Museum to instrumentalists on street corners. The best of these was the gentleman playing The Flight of the Bumble Bee on a series of glasses of water. We also enjoyed a folk band in the food market, a violinist playing for his own pleasure at the Fisherman's Bastion and three police brass bands, in a competitive play-off near the Royal Palace.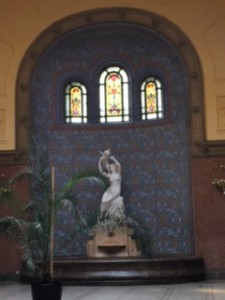 'Taking the waters' in Budapest is a must and after all the walking we did, quite a therapeutic way to spend a morning. We headed off to the Gellért Baths, a grand Art Nouveau temple, to sample thermal spa pleasure. There were several pools of varying heat, sauna rooms and ice cold plunge pools, plus a swimming pool and special massage room. We were quite conservative on what we tried but it was a treat to take in the surrounding grandeur and afterwards we all floated out, suitably de-stressed from the mineral-rich soaking.
Three days was just enough to get to know Budapest – with more time we would have explored a museum or art gallery, maybe taken a tour of the Parliament building or spent a day at Margaret Island. And eaten more cake!