I have been 'fancying a Chinese' for quite a few weeks now, mainly because Tim has been raving about a particular dish he tried one lunchtime at Dubai's China Sea restaurant and has been promising to take me there to share the joy.
The stars aligned and here we are, outside a beacon of red and gold illuminated kitsch that signals this is going to be a memorable dining experience. Every Chinese adornment, from fringed and bobbing lanterns to rampant mythical beasts, is on show at this Dubai institution and then some.
I recently made a brief trip to Dragon Mart, a terrifyingly huge shopping complex, offering every conceivable product created and manufactured in China. A significant proportion of Dragon Mart's wares have found a home at China Sea. Come sundown the building glows in the dark with it, enticing the next horde of hungry customers in, like moths to a flame.
The menu is a book and in any other setting this would be worrying but I can see the kitchen is alive with cooking-to-order action and the sound of utensils hitting hot woks is audible. A team of waitresses in jade green uniforms wheel trolleys of freshly prepared individual dishes to their destinations, carefully ticking the items off a handwritten list at the table on delivery.
All nationalities are tucking in. A large party of Chinese diners have just finished their meal and seem to be creating a noisy kerfuffle near the kitchen. It is hard to know if a couple of the group are exhibiting high spirits or about to hit each other. It sounded and certainly looked like a close run thing at one point but when a few of the kitchen staff emerge the potential trouble evaporates and the crowd disperses. That was different.
Meanwhile the plates moving past our table look so appetising and with many of the dishes on the menu illustrated, it was time to be a bit experimental. A display area of chilled fresh ingredients and prepped plates, plus a tank of live fish, offer additional off-menu choices for those in the know.
'Deep fried eggplant shrimps in sauce' says the menu. It might even say 'special sauce.' If it doesn't, it most definitely should. I love eggplant, or aubergine, as I know it. Shrimps are usually what Brits understand as prawns. Never had them together. Till now. I have been deprived.
On the plate were at least two aubergines, each cut into thick rounds so they remained attached but separated, like a fan. A plump prawn was sandwiched between each slice. It came to the table, in an attractive, neat arrangement, having been deep fried and smothered in the promised sauce. The inside of the aubergine is juicy and unctuous in the eating, yet retains its bite. The purple black skin has a sweet crunch. The whole plate is covered with a brown, gloopy, savoury/sweet sauce. Everything about this is wrong but it is utterly delicious.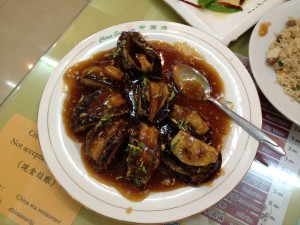 I attracted the attention of our waitress and in my delight forgot about the language issue. Pointing at the plate of aubergine I said, "How does chef make this dish?" With a huge smile she turned to me and simply said, "Yes!" Sometimes it is best not question but to just enjoy. Just in time, we managed to let her know that we didn't need a second plate – that would have been ridiculous.
People who love tofu, insist it is the best thing since the proverbial. They say things like: 'You can do so many things with it.' OK. How many of those are edible? Or: 'It soaks up any other flavour you put with it.' How is this a selling point? It is still tofu. Flavoured tofu. Finally, and somewhat desperately in my view: 'It is SO good for you.' The texture varies greatly, from 'silken' to 'firm' which to a non-tofu fan is doublespeak for 'the viler the texture, the more good it is doing you.' Well I take it all back. Tofu isn't, as previously believed, the food of the devil.
The dish I had come for – a noodle salad with a punchy chilli oil dressing and fresh coriander – was waiting for me in the chiller. The noodles are made from tofu, but you would never know it, which to a tofu hater and noodle lover is great news. I could have eaten a whole bowl of this salad and been happy with just that.
On this occasion we also managed to clear a plate of mixed stir-fried green vegetables dressed with dried chillies, barbecued crispy duck with pancakes and a large plate of fried rice with mixed seafood. The duck was a dish of two halves. First arrived a plate of skin and bones, the idea being to chew on these and suck all the meaty flavour from them before the slices of prime duck meat arrived. We were less impressed with the bony, chewy bits but felt this was a small gripe in light of the whole experience.
The China Sea Customer Feedback Questionnaire is a thing of remarkable detail – anything less than complete customer satisfaction is not an option. We were invited to compliment or complain on the speed of dish delivery, taste, waitress service and single out the best and worst dishes. Boxes had to be ticked in all categories with: Very Fast, Very Slowly, Nice, Just so so, Insipid, Very Good, Very Bad and curiously, More Oil, the suggested answers. Our response sheet was carefully studied by several staff members at the till.
The one question not fully explored on the form is value for money, which is outstanding. The equivalent of just £15 each for all that food and fun. Priceless.