The 300-mile journey north to Isfahan takes at least five hours by road so we make an early appearance at Shiraz bus station, with a helpful taxi driver in tow to make sure we head off in the right direction. Isfahan is the ancient former capital of Persia, renowned for its historic sites, art and architecture.
After much examination of our paperwork we're issued with a flimsy sheet of paper that says we can climb aboard. It's Tim's birthday so we plan to search for cake at our destination. With palaces, bridges, gardens, cathedrals, bazaars, museums and paintings to see, we'll barely have time to scratch the surface of Isfahan's treasures in two days. To help us make the most of the time our hosts have arranged a half-day tour of some of the key attractions for the next morning. For now, we head straight for the main attraction – the Naghsh-e Jahan Square.
One of the largest city squares in the world, is in fact a long rectangle with masterpieces of Islamic architecture in every direction. In past times the area was used as a polo field, which is some indication of its scale. The Persians invented polo and much else as our guide in Shiraz explained. The exchange of goods through a monetary system, a postal service and the first human rights charter are just a few of the many achievements of the Persian Empire. Religious tolerance is still part of Iranian culture so churches, cathedrals and synagogues, as well as mosques, are evident in Isfahan and other Iranian cities.
The square is a World Heritage Site but what is most striking is how important it remains to all aspects of local life today. Families and young people gather here by day and evening to enjoy a walk, to shop and to socialise. The equine heritage is a little more sedate now than on the original polo field – these days, attractive horse-drawn carriages ferry visitors around. With leisure, pleasure, commerce and worship all on the same site, it's the best place to capture the spirit of Isfahan when time is brief.
I can't imagine ever getting tired or over familiar with the nooks and crannies of the bazaar located in and around the square's edge. Duck into any opening and the vast labyrinth of passageways and courtyards, crammed with stalls, shops and tea houses is a shopper's paradise. Items you didn't realise you needed are on show in every direction and everything is so beautifully made. Handicrafts, jewellery, ceramics, homewares in silver filigree and copper, colourful textiles and of course, exquisite rugs and carpets, unique to this region, are just a few of the items that catch my eye and I make a mental note to return to the shopping area tomorrow. For now, where to eat – there's a birthday to celebrate!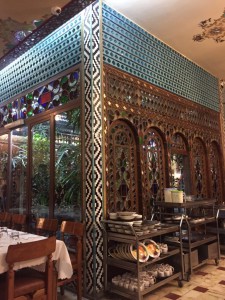 Shahrzad Restaurant is recommended for traditional Iranian food and we find it easily. The upstairs dining room soon fills up with locals. Apart from the sugar content, Iranian food is very healthy and wholesome. Getting your five a day is no problem here as a plate of varied salad vegetables is a standard first course. Tim orders lamb chops and I try a local speciality of chicken stewed in a walnut and pomegranate molasses sauce. All the food is delicious and portions are huge. No photos though as my dish though tasty, won't win any prizes for prettiness.
The crispy topped rice we had in Shiraz isn't such a feature on menus in Isfahan. White rice topped with a little saffron or sometimes studded with sour little red barberries is more usual. There is officially no alcohol available in Iran so non-alcoholic drinks, such as 'lemon beer,' are served in restaurants. The bottle looks like a beer bottle should but the drink tastes pretty much like lemonade. I really enjoyed the Iranian black tea and lemon verbena variety and the culture of Iranian tea houses. Tea is served with either white sugar cubes or a pretty dipping stick of saffron sugar crystals.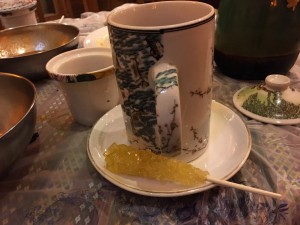 Isfahan is as friendly as Shiraz! We're approached by a local guy who teaches English and is keen to speak to 'real English people'. We chat over coffee and cake at his favourite café. He very kindly invites us join his family for lunch the next day but we tell him we'll be on a tour. He mentions that his grandfather has a carpet shop close to the Armenian Cathedral.
By amazing coincidence, we do end up in a carpet shop close to the magnificent Vank Cathedral, where the proprietor immediately asks us if the previous day was Tim's birthday! Our cake companion is this gentleman's cousin and word has been passed to look after the two Brits he met, should they happen to drop by. A fascinating presentation on all the different kinds of Persian carpet and patterns results in a sale. No regrets!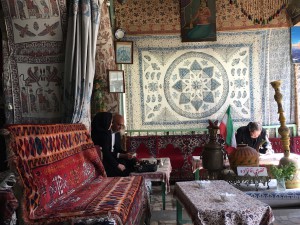 In addition to the stunning tiles and mosaics of the Sheikh Lotfollah Mosque, our guide takes us to the Chehel Sotoun, a pavilion in the middle of a park with its magnificent paintings and frescoes. The name, 'Forty Columns,' is inspired by the wooden columns supporting the entrance which, when reflected in the waters of the fountain, appear to be forty in number.
Later we make a point of trying a couple of local specialities that we'd heard about. Beryouni is a fried mined lamb patty, wrapped in bread and served with a yoghurt sauce. A tasty morsel that Tim thinks has a depth of flavour that you only get from offal. Later I found out that lungs could be in the mix. I'm glad we didn't know that at the time.
The Iranians love sweet tastes and especially nougat, which they call Gaz. We notice shops dedicated to this and similar products. In the Azadegan teahouse, a traditional haunt, with dusty bric-a-brac adorning every spare inch of the ceiling and walls, a plate of sticky shapes called Bamiyeh is served with tea. These are made from deep fried dough, dipped in syrup. Toothachingly sweet!
Vivid colours and textures are not confined to the mosques and palaces. We stayed at the Abassi hotel, a complex built at the time of King Sultan Husayn, some 300 years ago, and restored in the 1950s. A grand outdoor courtyard and Iranian decorative features, steeped in history, adds to our experience of Isfahan.
A short domestic flight north will bring us to our third and final stop, Tehran.