Refurbishment, fit out or maintenance works in Dubai invariably carry explanatory signage declaring: 'We are working to enhance your experience', suggesting that the temporary inconvenience to the general public is for the greater good. This charming phrase suggests that behind the hoardings, persons unseen are labouring night and day to get things back on track as soon as possible.
Whether this is actually true or not is questionable as some of these 'enhancements' to existing premises can go on for months, with no discernible difference to the décor or layout when the grand reopening occurs! Leaving that to one side, the idea continues to resonate with me and is one I am taking to heart.
I am not sure anyone in the UK has actually asked me what I do all day out here so it must be the voice inside my head that stops me in my tracks when a particularly lazy day is planned. It is very easy to become indolent and frankly, spoilt, out here. If you ever need to find a bunch of adults, happy to voice their first world problems, without a trace of self–awareness, then look no further than Dubai's expat community. In the wild, and at a safe distance, this particular breed is fascinating to observe but liable to set your teeth on edge if encountered at close quarters! I live in perpetual fear of turning into one of them.
So to make sure I am succeeding in my quest to make the most of my time here, I noted down some of the things I did over a ten-day period. It was a relief to know that I hadn't been wasting too many hours having my nails and hair done, though in keeping with the standards previously mentioned above, necessary maintenance work was carried out when required.
For those of my friends and relatives that presume I must spend most of my time lunching, shopping and sipping cocktails, here's a selection of my recent activities.
Cinema – I heard an interview with the director of Legend on BBC iplayer and was amazed to find that the film was showing at the local multiplex. In Dubai terms, a film charting the rise and fall of the notorious Kray twins in 1960s London is practically 'art house'. The film digs deep into their dysfunctional psychology. Tom Hardy playing both roles is a neat trick to pull off and his performance is outstanding. I was so keen to see this film, I went by myself one afternoon while Tim was on a business trip to Saudi Arabia. I don't know anyone else out here that would have been remotely interested in the subject matter and it would have taken too long to explain! I have since found out about a proper art house film club run by a well-connected Emirati film lover. Never expected that and wouldn't have found it without getting the heads up from my Australian neighbour.
Desert safari – a trip to Dubai's Conservation Reserve which included a stop at the camel racetrack, breakfast at a Bedouin village, a Q&A with the village leader (no personal questions about family or wealth, please), an introduction to the protected gazelles and antelopes and the terrifying highlight – a camel ride. The gradual collapse as the beast lowers itself to the ground, thus allowing the rider to dismount, took me rather by surprise, but I survived! This was a trip organised specifically for Jack's visit and one that appealed to me because it offered a trek to the desert in relative comfort and no rufty,tufty dune bashing. It was well worth getting up at the crack of dawn to appreciate the beauty of the desert before it got too hot.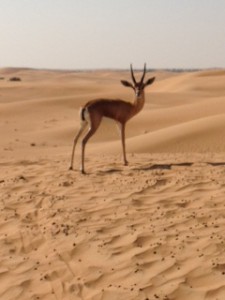 Abu Dhabi – my first visit to the capital of the United Arab Emirates and a tour of the magnificent Sheikh Zayed Grand Mosque. The famed 82 white marble domes and the scale of the site is spectacular.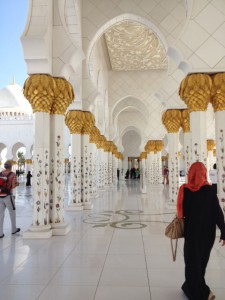 I didn't expect to be so wowed by the contemporary beauty of the floral motif in the main courtyard created by British artist, Kevin Dean and the stunning chandeliers in the prayer hall.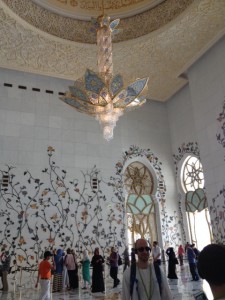 PR research – in addition to my client work – and yes – I do still do some of that, I have been contacted by a PR student in her final year of study at Lincoln University, researching PR in the UAE for her dissertation. Dubai's SMEs seems to be behind the curve on PR and communications generally, not to mention website functionality and user experience (don't get me started). Unpicking my own experiences and observations as a customer, in order to explain the issues particular to this region, has been an interesting exercise.
Brushing up my Shakespeare – through a six- week course led by a Globe and National Theatre player. A thoroughly enjoyable and challenging opportunity to learn techniques and exercises used by the UK's stage professionals. I've come all the way to Dubai to connect with my drama student days in London, half a lifetime ago! Maturity is certainly helping to enhance this experience. At last I've reached the age where I just go for it!