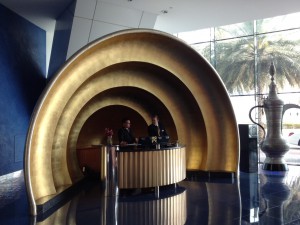 Before we made the decision to move to Dubai we came out for a week's 'recce' to see if this was for us. Even before we got here the symbol of Dubai, the stunning Burj Al Arab hotel with its distinctive exterior design, based on a ship's sail, cast a spell. There it was in the pages of the flight magazine and it kept hoving into view all week. When we checked into our somewhat less exclusive hotel we discovered that the rooftop bar afforded a tantalising view of this iconic structure.
In our extreme ignorance and naivety we thought a drink at the Burj Al Arab ought to be on the list of experiences that week and would be the perfect location to give the whole relocation idea some serious thought. So we put on some smartish gear, got our hotel to arrange a taxi and off we went. Half an hour later we were back in the lobby of our hotel, thirst unquenched but armed with some useful information about how getting in to this hotel actually works.
You can't just rock up for a drink – or anything else for that matter. Not at this baby. This is the mother ship of exclusivity. This is something the British know something about. Our infamous class system bestows all sorts of life's advantages on the upper echelons in our society whilst keeping the less fortunate firmly in their place. We know all about keeping the riff raff out but if you thought that kind of attitude prevented us from getting a drink at the Burj Al Arab that night, you would be wrong. True, we were a bit miffed at the time but I understand what was going on now and it makes sense.
It is not so much about exclusivity as providing top class service. They like to know you are coming, so they can roll out the red carpet. Reservations have to be made – even for a drink – so your name is on a list of expected guests. The Burj Al Arab, a bit like my deceased grandma, likes advanced notice of your arrival for fear you might arrive and find no one at home.
There is no hint of condescension or snootiness here, as there might be in the UK. A recent behind the scenes documentary on Channel 4 (The Billion Pound Hotel) showed that the staff may be used to revamping the gold leaf chair legs for big spenders and Royal guests but their skill lies in also applying the same standards to Mr and Mrs Ordinary having a Special Treat.
Having been denied access before, somehow made the whole Burj Al Arab experience ten times more desirable! Tim's birthday offered the perfect reason to go. Friday Brunch was affordable (just) coming in at just shy of £150 each. Gulp.
No hitch this time as we were waved through security and across the bridge to the small private island and the valet parking that signals we had indeed arrived at our desired destination. The lobby is designed to deliver the wow factor and the water features, sculptured ceilings and the towering golden opulence of the interior structure keep you gawping as the escalator propels you ever upwards.
There is no opportunity to wander off the beaten track, to glimpse an open door or look round a suite – there are no rooms – only suites here. I asked if we could. In the nicest possible way, the answer was no because nothing must disturb the privacy of the hotel's guests. Finding two nosey Brits having a butchers at the end of your corridor is simply not the Burj Al Arab way.
So the escalator delivers brunch guests to the glittering lobby and the lifts that silently beam them to the welcoming committee waiting at the Al Muntaha, restaurant on the 27th floor.
The interior design, with its show off peacock tail blues and greens is in perfect harmony with the sea and sky scape panorama. The view from the ocean shore through to the science fiction outline of Downtown is immense so no wonder that window seats in the restaurant are in high demand. We hadn't booked one, but one was found, nevertheless. I didn't even have to ask – it was offered. "We understand this is a birthday so we will have a window table made up right away."
It was a somewhat unexpected but welcome touch to be offered a complementary glass of prosecco with brunch. Not just a glass of prosecco either – a Bellini.
Brunch here has the fine dining refinement I expected – with several bells and whistles. On one side of the room dish after dish of elegantly presented European and Middle Eastern starters and salads cried out for attention. I made an immediate connection with the shot glasses of avocado and green apple soup, garnished with a juicy cube of marinated salmon and caviar cream. Superb.
Other highlights included the risotto station where chef was creating individual portions to order; an enticing selection of fish and vegetables in tempura batter; a display of half a dozen different kinds of caviar; a seafood and sushi bar; Indian and Arabian meat and fish dishes and European-style slow cooked duck and lamb. Ample choice and whist the tempura could have been a touch crisper, everything else we tried was tip top. Just when we thought a pause before dessert would be in order, the doors parted with a theatrical flourish and chef appeared wheeling a silver trolley, to carve roast sirloin of beef at the table. Well it would have been rude not to, wouldn't it? The curiously shaped Yorkshire puddings that accompanied the meat were a talking point and chef was certainly surprised to learn Yorkshire was a place. Was it a city? Well no, more a region. Is it in Europe? Maybe Welcome to Yorkshire still has some work to do here.
A good quarter of the room was given over to desserts and patisserie and even if we hadn't kept a tiny space in reserve, resistance was useless. Everything appears cunningly dainty in size, thereby encouraging you to carry on sampling. From the pretty as a picture macarons to mini cheesecakes, cups of tiramisu to tiny vanilla slices, it was faultless. My favourite was the Yuzu layer cake, the unusual citrus-like topping cutting through the richness. I did notice a tureen labelled, bread and butter pudding, clearly there to ease the hunger pangs that might set in before the coffee arrived.
Service, it goes without saying, was exemplary. It would have been a great experience even without the white box given to the birthday boy to take home, but what a lovely touch. A Burj Al Arab branded chocolate birthday cake. Layers of the lightest sponge and chocolate mousse as a parting gift ensured this brunch lived up to its billing. A new friend has told me that afternoon tea here is exquisite so the plan to return starts now.