Touch down in Cochin for a five-night trip to Kerala and even from the air our first glimpse of India looks so lush and green, abundant with vegetation and water-rich. Only three and half hours away but such a different landscape from the desert city of Dubai.
It's late when we check in to our hotel but not too late to eat in one of the two restaurants. One, with an all-Indian menu and curiously labelled, 'Museum Restaurant', was totally empty and slightly creepy. The 'concept' which hopefully didn't extend to the food seemed to invite diners to eat amongst display cases containing various ancient artefacts, tools, decorative objects and the like. It was all very dark and uninviting so we headed for the brighter lights of the more casual option. The lone waiter on duty didn't seem to take offence at our departure.
A freshly cooked chicken tikka for me and lamb curry for Tim. Rather good but not typical Keralan fare. We were saving that for tomorrow's lunch. We had already researched the venue and the advice was to get there early. We may need to curtail the morning sightseeing tour but how to break the bad news to our super keen tour guide and driver?
We decided to make them aware of the importance of lunch as soon as possible. Tim set the situation out very clearly at 10am. We would like a whistle stop trip of the highlights but we need to be at Shappu Curry by 12.30. Where? We supplied the address as they didn't seem to know it. We left nothing to chance. This was one of Rick Stein's stops during his TV series on Indian food. We found the extract on YouTube the night before we left and made a note of every detail.
It's hard to get any sense of where we are in relation to the city centre and even after a couple of days here we were none the wiser. Cochin is set out over a series of islands linked by bridges. The rule of thumb is that everywhere you want to get to is generally at least half an hour's drive from wherever you start from. Roadworks for the construction of a metro system are a bit of headache for drivers as they add to journey times but the first phase of the project is due to be operational in June so the end is definitely in sight.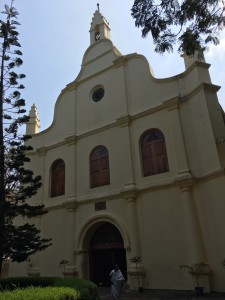 Our tour started at Fort Cochin and the church of St Francis, the oldest European church in the country, built in 1503. The Portuguese explorer, Vasco da Gama was buried in the church but his remains were later removed and re-buried in Lisbon. Our very knowledgeable guide was explaining this and giving us much more historical detail as we stood outside but I was more interested in people watching.
In the bright light and heat of the day the vibrantly coloured saris worn by local women are so attractive after the sober national dress of the Middle East. Every woman here looks as if she is dressed for a party yet this is everyday attire. Femininity and the female form is celebrated in jewel-bright colours and shimmering, floating fabrics. A beautiful, joyful sight.
A short walk away from the church are the famous Chinese Fishing Nets – a major tourist attraction. For a small fee of a hundred rupees (£1) we went on board one of the many boats and helped pull on the weighted ropes to lift the huge, horizontal fishing nets out of the water. Fish and a host of souvenirs are sold by the waterside so it felt a bit like walking into an ambush as the eager salesmen did their best to convince us to buy their stuff.
On to the Dutch Palace, built in 1555. This houses some exquisite murals depicting Hindu temple stories. Unfortunately, photographs were not allowed and though our guide was diligent in explaining the detail, the heat made it hard to concentrate on what he was saying for very long so this was a quick walk through. Besides, it was nearly lunch time!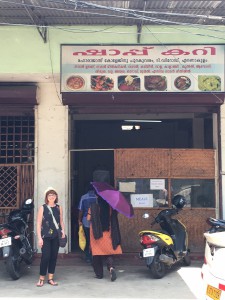 We have had several memorable holiday meals at great places courtesy of Rick Stein and Shappu Curry was an outstanding example. The local fish is Karimeen and one way of serving this Keralan speciality is to first cover it with a rich, red spice paste and then wrap and steam the fish in a banana leaf. We ate this dish at two other places during our trip but this was the best and freshest tasting of the lot.
At the table, the tasty parcel is unwrapped and the flesh is gently eased from the bones with the hand. Another banana leaf serves as a plate so that rice and a series of condiments can be added in small piles. We were the only tourists in the place that day. We treated the guide and driver to lunch too and they seemed more than happy with the choice. Somehow eating with my hand is just not for me but Tim took to it immediately. The secret of success lies in rolling small amounts of rice and condiment into a ball and using your thumb to eject it into your mouth – I believe. Watching this unfold made me feel very uneasy. Sometime back, I suspect a well-meaning nursery school teacher probably covered my hands with paint and tried to encourage me to be messily creative. Knowing me I would have burst into tears and not known what to do. Without my backup cutlery it would definitely have ended in disaster.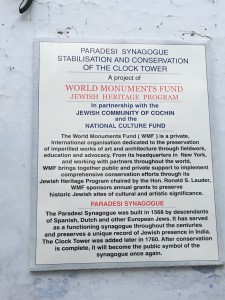 On the way to the Dutch Palace we had driven through Mattancherry, the Jewish area of Cochin, with its own synagogue and a main street full of interesting looking shops. We decided to go back and explore this area in the evening when we had more time. In this first day it was clear that Cochin gave equal respect to all faiths. I expected to see evidence of the Hindu, Christian, Roman Catholic and Muslim religions but Cochin seemed proud of its Jewish heritage too. I hadn't expected that.