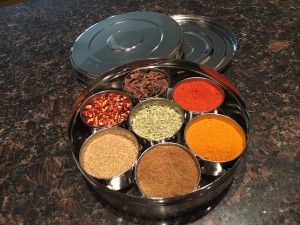 Kerala's herb and spice trade dates back hundreds of years and even today the international market for these ingredients is a key driver of the regional economy. Locally grown pepper, cardamom, turmeric, nutmeg, cloves, cinnamon, ginger, tamarind and curry leaves are highly prized both for their flavour and beneficial medicinal qualities.
Everywhere we went we had to reassure anxious waiters that, contrary to popular belief, many Europeans do like spicy food, so please bring it on! Tasty, with spice, rather than hot with chilli was our experience of the Keralan vegetable and seafood dishes we tried.
Coconut is an essential and plentiful ingredient. The milk adds a soothing richness and depth to savoury dishes, whilst shavings of coconut might be mixed through a plate of finely cut fried vegetables or grated into a side dish (sambar) for added texture. In addition the sour note of tamarind, spike of lime, vinegar or unripe mango pop up from time to time to keep your palate guessing.
Over the past months we have amassed an untidy collection of spices for our Dubai kitchen cupboard. The identifying labels have long gone and in the haste that often accompanies my kitchen prep, some of the contents have spilled into the large tray that serves as a holding pen for these wayward individuals. Time for some proper organisation, and a visit to the Women's Co-operative Spice Market had just the solution – a Masala Dabba. This stainless steel round box containing seven smaller pots is an essential feature of the Indian kitchen as it allows the cook to store and locate individual spices with ease. A little bit of 'best price' banter ensued before the deal was agreed and the parcel was wrapped.
Our charming and cheeky shop assistant was on a mission though because we were treading in the footsteps of greatness. As the newspaper cuttings around the shop announced, HRH Prince Charles and his blessed Camilla recently graced this place with their presence and we were therefore invited to consider purchasing some of the pashminas and hand-made jewellery that so pleased Mrs Wales.
Whilst I was ushered to an upstairs room to peruse the wares Tim found a guitar. Luckily, this was a helpful distraction as the chief saleslady and her sidekick were so enthralled by the impromptu strumming they both left me in peace.
The next morning it was farewell to Cochin and onward to Alleppy jetty, a two–hour drive away, to board a houseboat for an overnight cruise though the famous Keralan lakes and lagoons known as the 'backwaters'.
The journey through the countryside and villages was fascinating. We passed areas where workers were laying out coir mats to dry in the sun, showing that every part of the coconut is put to good use here. Cashew nut trees at the side of the road were a revelation as our guide showed us that the nut is actually found within the shell of the seed pod of a yellow, very juicy fruit.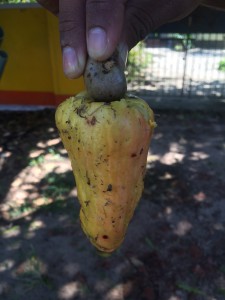 We had to slow down when a procession of elephants was led from a Hindu temple festival event and the crowds of people in their wake spilled into the road. Special white saris were being worn by the women and it all seemed a very jolly, musical family occasion. Our driver was able to pull over so we could get out and take it all in which was very exciting and unexpected.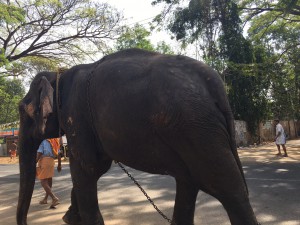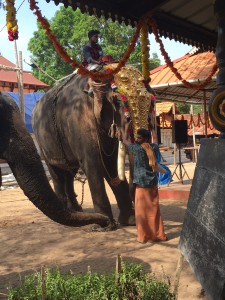 The overnight cruise on a houseboat has the potential to be wonderfully romantic and relaxing. I am not going to elaborate too much on that idea whilst our complaint is still under investigation but suffice to say if it had just been a day trip it would have been a great experience. The boats, and there are many of them, cruise along at a leisurely pace, to reveal picturesque scenery and everyday life along the riverside. There is so much so see but when the heat of the day overwhelms, leaning back in a comfy chair on the covered sun deck, with a cold drink to hand, is pretty blissful.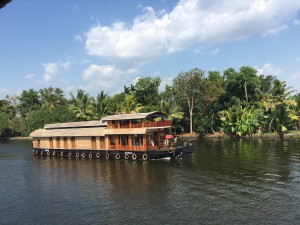 One of the three-man houseboat crew is a chef and simple, plentiful local cuisine is rustled up in a tiny kitchen. Our lunch was a feast with vegetable dishes of dal, okra and a delightful beetroot sambar easily outshining the karimeen fish which was sadly overcooked. The star of the show was a thoran – a mix of fried, finely shredded cabbage, snake beans, carrot, onion and green chillies, flavoured with black mustard seeds, curry leaves and shards of coconut. I could have eaten a whole bowl of this with the beetroot sambar on the side. It was delicious.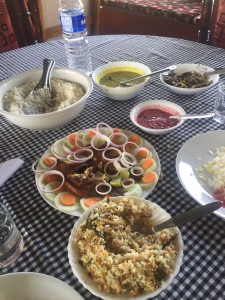 At one point the boat was moored at a village so we could have a wander along the bank. The villagers do their fresh food shopping in the early morning at the riverside where fish and fruit sellers bob close to the bank in small canoes.
Further along, we saw laundry being done in traditional style against a stone, children swimming and others at school.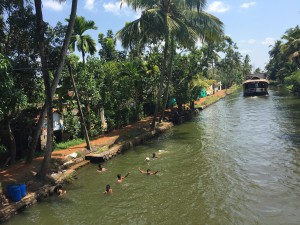 We also stopped at a ramshackle bar to investigate the notorious 'toddy', the alcoholic home brew made from coconut sap. Tim was given a complimentary glass of it – not a taste either of us wish to repeat!