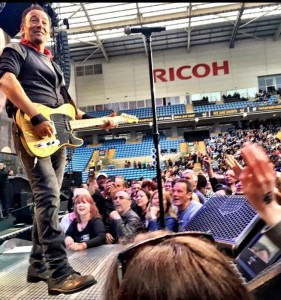 Back in Dubai, after a two-week, high octane visit to the UK and France it's no wonder I'm feeling discombobulated. You what? Until this week, 'discombobulated', meaning 'disconcerted or confused', is a term I have only ever heard used in a comic context.
Listening to a heart-rending exchange on BBC's Radio 4, the presenter chose this word to describe an interviewee's state of mind following a particularly harrowing experience as a child. It jarred with me, as being merely 'discombobulated' did not come close to covering the situation being recounted, so I am now appropriating the word (thanks Woman's Hour) for my own use.

In two weeks, through two countries, we crossed many rivers to visit two graves, queue for two Bruce Springsteen concerts, stand at Shakespeare's Globe, celebrate with our nearest and dearest, reconnect with dear friends, make new ones, meet the youngest members of the family and explore the charming French city of Rennes, all the while blissfully unaware that we would need to hire a car, as due to labour strikes, there would be no trains to take us to Paris and a flight back to Dubai the next day. Irony alert. Ah, Europe, how I miss you and your freedom to withdraw your labour!
In a tongue-in-cheek sort of way, discombobulated describes my own state of mind after this visit to the UK and France. In a packed schedule which I always knew would trigger some big emotions, settling back to expat life in such a different landscape is taking a little adjustment.
Whilst our host country has entered the holy month of Ramadan, my thoughts are fixed on Europe, specifically the debate and outcome of the EU Referendum and, if I'm really honest, the flow of Bruce Springsteen's River concert tour as it meanders through to July, accessed via social media through the sharing of pictures and set lists by the faithful, to the faithful. So, until both these momentous events have concluded, in one way or another I remain in an unusual state of flux, neither here nor there.
Catching Springsteen's River tour was a project, many months in the making and uniting a group of us over several continents and time zones. When tickets went on sale, months back, we were holidaying in India. Our hotel room resembled the Houston control centre with several devices and a PC set for ticket drop on UK time and a Skype link back to our friends in Yorkshire who were also trying to purchase as insurance against flakey connections to the Ticketmaster site. It was a triumph. Standing tickets for two shows. We were all going to be Dancing in the Dark with the Boss. Metaphorically and possibly literally. Sorted.
When I book tickets for an outdoor concert in the UK, in my head the sun is always shining. It rarely is when the day finally comes and so it was in Manchester. Bruce said as much from the stage of the Etihad stadium that night and insisted he and the band wouldn't have it any other way. Well, sorry Bruce, but I beg to disagree there. Pouring rain plays havoc with the hair and the planned outfit and we girls do like to look our best for you. Manchester is a cruel mistress actually. Just two days before the show, we enjoyed a canal-side walk and drinks in glorious sunshine.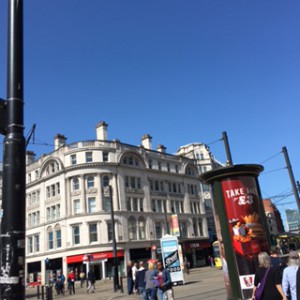 A week later in Coventry, the skies stayed dull over the Ricoh arena but the evening was dry and almost warm or was that the heat from the thousands of people behind and around us? What is the chance that two of those people, standing directly behind us in the pit, would turn out to be a couple we last saw five years ago in Langkawi? The power of Bruce is great indeed.
My personal River Tour highlights also encompass those collected close to the Thames, the Mersey, the Avon, the Ure, and the Vilaine in Rennes, France. In no particular order they are:
• Feeling supported by friends and close family at my mum's memorial service and sharing some laughter in the sunshine with them afterwards
• The walk along Bankside from Tate Modern to the magnificent Globe Theatre
• Dinner with both our boys at the always excellent Joe Allen's in Covent Garden
• A few hours relaxation in the 18th century landscaped Parc du Thabor, Rennes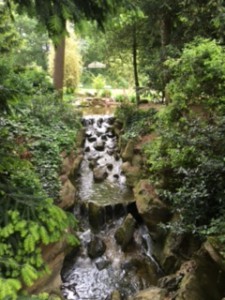 • Being there, at the rail when Bruce played Santa Claus is Comin' to Town – in May, in Manchester. Thanks to the fan who tried the long shot of dressing as Santa for the night – it worked!
• Standing in the Globe Theatre yard for A Midsummer Night's Dream – it 'rocked my ground', made me laugh and rethink a play I thought I knew well. Emma Rice is a theatrical genius
• Tim saying he loved the whole experience of standing for three hours to watch a Shakespeare play and why didn't I say it would be 'a show'? I think I seriously undersold this one
• Every morsel of food consumed and served in Rennes – even cheese on toast is elevated to three different cheeses melted onto the best bread in the world
• Chatting to the lovely girl and her mum behind us in the pit line in Manchester. Mum had her phone on the selfie setting so her daughter could put on her make-up (good trick). A few hours later the daughter was pulled up on stage for a dance and handled her 'moment' with exceptional grace
• Shopping in Bath – independent shopping at its best but even the chain stores seemed above average in range and layout – all walkable too
• Seeing the Beatles celebrated in Liverpool as the musical heroes they are – only in this city could you find a hotel called A Hard Day's Night and quite right too
• Hearing Point Blank sung live for the first time- a Bruce song I've loved for years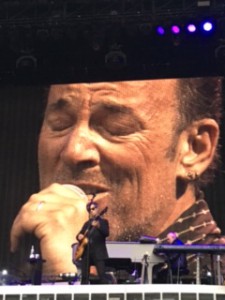 • As above with Drive All Night – shivers down the spine
• Pretty much everything about the Balthazar Hotel in Rennes – a boutique hotel with heart. Tim watched as a tramp entered the lobby to help himself to the edibles on display. Staff let him carry on for a bit and then gave him a glass of water before leading him out
• Eating a Sunday roast dinner, in lovely company in a pub garden – in Yorkshire! After a year in Dubai, largely spent avoiding the heat, we both got sunburn in one afternoon in the UK!