It was about this time last year that we had a conversation about what our Christmas in Dubai might look like. Should we take the Christmas decorations with us? Surely not. Likewise, the oversized fake tree that comes down from the loft every year? No, that would be ridiculous too. Wise decisions. Without all the familiar festive paraphernalia to hand it is easier to break away from convention and adopt a fresh approach. Deep down, I think the attempt to simply replicate what we usually do in this very different location would make me feel a bit sad.

The traditionalists and those with small children can find all they need in Dubai to make the festive season bright – including a fake white Christmas! One of the big department stores in the nearby Mall has added a snow machine to Santa's habitat, recreating the magic of a Lapland snowfall.
It's a just a pity that the odds remain stacked against impressing the adults with a half decent mince pie. I have tried quite a few at some of the most popular British expat haunts but soggy pastry and a lack of decent filling of the right taste and consistency seems to be the norm. There is a wonderful independent deli close by our flat and I had high hopes when we spotted mince pies were part of their very tempting cake display.
Unfortunately, 'pie' has been interpreted literally as this has a very thick pastry lid. The filling is an unsatisfying black paste with an overpowering flavour of cloves – possibly to compensate for the lack of brandy. All in all it was a bit medicinal, which is not really what anyone wants from a mince pie.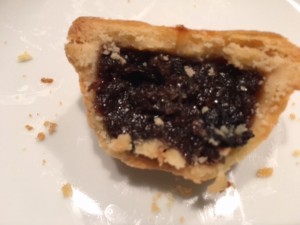 A couple of supermarkets only stock those with a long shelf life from the kitchens of Mr Kipling and Mr Lyons. The trusty M&S and Waitrose 'luxury' versions don't make it here at all, possibly because of their perishability and booze content. Nothing for it but to make my own. Shop bought mincemeat is tricky too. My search has been long and has involved many, (pun alert), fruitless conversations about the fruit-based content of 'mincemeat' with confused shop assistants. So when I came upon two jars, sitting lonely amongst a random clutch of unrelated products in a recommended supermarket, they had to be mine. By this time I had planned to make my own mincemeat anyway but the purchase felt so sweet.
I usually rely on Betty's of Harrogate to supply the best mince pies on the planet and I don't expect an outpouring of sympathy for this 'deprivation'. Could it be with none of the usual pre-Christmas panic I could actually be spending the coming days calmly making pastry whilst listening to the radio? That's a bit different!
We recently spent a weekend in Al Ain, one of the largest cities in the UAE but with a much older and more traditional heritage than Dubai. There is a famous camel market there which turned out to be prophetic. Later I spotted a decorative ceramic camel in the lobby of our hotel and so 'Colin' our Christmas camel was duly purchased and is now installed, complete with red tinsel in preparation for the festivities.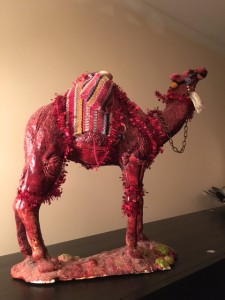 Lots of candles, a few strategically placed baubles and some pretty fairy lights will be enough for this year. Less is definitely more. Now the countdown is on till Tom and Jack arrive on 21 December. Requests have already been made for chill out time round the pool and I'm looking forward to joining them as a lovely hotel just across the road is in charge of our Christmas lunch, so no final lists and battling the crowds for the last minute food items. I might just miss the lovely smell of turkey stock permeating the house on Christmas Eve, though. Maybe next year……