The Eid holiday that follows Ramadan offers an opportunity for a few days away, but where to go? Bulgaria, it has to be said, wasn't our first choice.
We thought about North India but at the start of the rainy season maybe this wouldn't be such a good idea. A Korean colleague of Tim's encouraged us to consider Seoul but again, the potential for heavy rain there at this time of year put us off. On paper, a five hour flight from Dubai to Sofia, Bulgaria's capital, ticked a lot of our boxes.
We stayed at an Airbnb apartment and discovered we had booked one of the best and most comfortable we've ever had – and the least expensive. We couldn't help thinking that Bulgaria could be missing a trick by not marketing Sofia more aggressively as a value for money city break destination.
The main sights and monuments reveal thousands of years of history, multiple religious beliefs and political regimes. Ruins and in some cases, rebuilt Roman ruins, can be seen in the shadow of the more extravagant edifices associated with the more recent Communist era and stark Brutalism of the 1970s. Bulgaria only became a Republic in 1990.
We noted, with grim humour, the European Union flag flying on many of the official sites. Those same flags will no doubt be disappearing from view in the UK very soon and the EU funding we have turned our backs on might be diverted here. Sofia could certainly use some help to improve the state of its pavements which are lethally uneven with enough broken slabs, holes and alarming dips to make any UK council chief quake at the potential for litigation. I have never spent so much time with my eyes on the ground as here and at night with street lighting at a minimum, the dangers are multiplied. No wonder we didn't see any disabled people or small children out and about.
Natural and man-made beauty overlook this city. The Vitosha mountains can be seen in the distance but I found the statue of the generously bosomed patron saint on her column, a much more arresting sight. The sensuous Saint Sofia, arms outstretched towards the traffic in benediction, was installed in 2000 to replace a likeness of Lenin that had previously kept a watchful eye over the city.
Language could be seen as an issue for English speaking visitors. The written language is in Cyrillic script and anything more than the most basic of English is not generally understood or spoken by the average taxi driver, public servant or small shopkeeper. Having said that we managed to communicate, after a fashion, without too many problems.
We joined a free walking tour of some of the main sites led by one of several students keen to engage with visitors. Nikola spoke near perfect English, as many of Bulgaria's young people do, and could explain some of the city's history and traditions in a nuanced and illuminating way. His overview of The Square of Tolerance sticks in my mind. We were standing outside the former state owned TZUM department store – a Communist era temple of sorts – but from that spot we could also see a cathedral, a mosque, an orthodox church and a synagogue. During the Second World War Bulgaria stands alone as the only Eastern European country to protect and save its entire Jewish population of 48,000 people from certain death. Government officials refused to co-operate with the Nazi order for deportation and religious leaders from other denominations and even ordinary citizens protested against the race hate and murder. Nikola's explanation of the triumph that stemmed from this rare act of collective humanity was so engaging, I couldn't help but burst into spontaneous applause.
There are two main food markets but only one worthy of attention. The exterior of the covered food market looks impressive but inside it is soulless with surprisingly few customers. A little further up the road the so-called Womens' Market, where fruit and vegetable sellers call out their prices and small traders sell ceramics and snacks, is much more lively and atmospheric.
Despite the charitable traditions of the various religions many of the city's poorest citizens and stray animals go unnoticed today and those that are barely surviving have to be alive to any opportunities. Aside from the taxi scams that await the unwitting tourists we saw plenty of people begging and dogs roaming independently, all looking for crumbs of comfort. We picked up a map of Sofia, cunningly illustrated in cartoon style, naming the area around the train station as 'Robbery Central' and using a symbol of a moving handbag to make the point. No different to most European cities, I guess.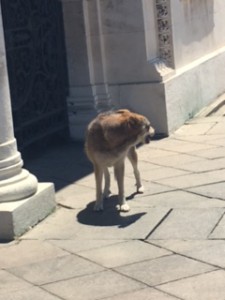 The food was a surprise. Not the carb-heavy menus I was expecting as Bulgarians don't always fill up on bread and potatoes. Salads are a popular starter and most menus have several choices. Shopska, is the traditional salad of fresh tomatoes, cucumbers, roasted red peppers, spring onions and parsley. The vegetables are lightly dressed and finished with a sprinkling of a crumbly white cheese, called Sirene, similar to Feta. Meat is generally grilled and dressed with a savoury sauce. All very wholesome, fresh and delicious and judging from the crowds of locals at the two restaurants we tried, lots of other food lovers shared our opinion.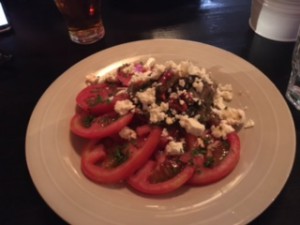 Shtastliveca was a recommended restaurant and we liked it so much we went back twice. Made in Home was a little more rustic but the desserts were outstanding. We shared a piece of their unctuous raspberry cheesecake with a chocolate and blueberry crumb base. My mouth is watering at the memory. Local wines, especially the reds, are superb and prices at most places are crazy low.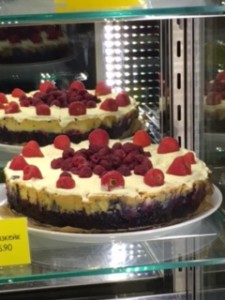 On the train journey to Bulgaria's second city Plovdiv, we tried Banitsa, a breakfast dish, comprising a tough filo pastry case stuffed with white cheese. Perhaps the home made version is more digestible, but we couldn't get down more than a bite each of the one we purchased from the Bulgarian equivalent of Greggs. Ayran, a salted yoghurt drink had more potential though the full fat Bulgarian version is too rich for my taste and undrinkable after five minutes outside a fridge.
Plovdiv is smaller than Sofia but there is a cosmopolitan, prosperous feel to the main town and a confidence that must be sky high now it has been selected as European Capital of Culture 2019.
Different civilisations have lived in Plovdiv for more than 8000 years and important historical evidence exists in, amongst and below the modern part of the city. It's a steep climb up to the Old Town and the main street of highly decorative buildings, some housing museum collections and others operating as workshops for artists, and craftspeople. The crowning glory is the Roman Amphitheatre. On the day we visited a rock band were in rehearsal for a show so we could only peep through the gaps at this restored treasure, only uncovered in 1972 after a landslide. We concluded that using such a precious site as a venue for entertainment was brilliant. I could think of a few musicians I would like to see play there.
We could only stay in Plovdiv for a day and the return journey to Sofia by super slow train was like torture but the magical views from the Old Town and its buildings left a lasting impression of a fascinating country.