The UAE working week is Sunday to Thursday and I thought it would take me ages to get used to thinking of Sunday as a working day. Not a problem. I've come to realise you can take pretty much anything in your stride if the sun is shining. The weekends appear to come round a bit faster, if anything, over here and the Thursday night traffic suggests that people would like to get their weekend underway even sooner, if they could just get to their destination in time for the party.
Friday is the Islamic day of prayer in the same way that Sunday is a religious day in the UK. For the majority of expats in Dubai, Friday is spent enjoying a long, lazy, eat and drink all you want, buffet-style banquet in the sumptuous surroundings of one of Dubai's very many upmarket hotels. It's extravagant, excessive – and a culinary experience I couldn't wait to try. If Friday is the new Sunday, then I'm happy if brunch is the new lunch.
By lucky fluke we live opposite The Palace which reputedly offers one of the best Friday brunches to be had in Dubai. It had to be sampled. Introduce 'buffet style' and the 'all you can eat and drink' scenario and with the best will in the world you will attract a variety of human life. It was a fascinating afternoon.
The catering team must have been expecting the population of a small country to turn up. There were dishes representing most of the major world cuisines; fresh seafood, including an oyster bar; roasted and braised meats with all the classic sauces and sides; every possible version of salad and an outdoor grill and barbecue station where a brigade of chefs prepared mountains of scallops, lobster and the finest cuts of steak to order. There were baskets of different breads, row after row of handmade desserts and patisserie and a selection of cheeses I didn't have room to even consider. I don't think I actually saw everything available and if I had tried to do so, there would have been no time to eat anything! In short, there was so much to tempt and satisfy that further exploration was hardly necessary. Supplies were constantly being replenished so there were no sad and sorry last knockings on show when people turned up mid-afternoon. It was awesome and I don't used that word very often. A battalion of smiling waiters and chefs were on hand to minister to your every whim. Heck, if you fancied candy floss on a stick – you could have it. There was a chef, spinning the stuff. I kid you not.
Many, like ourselves, were entertaining friends and family. One British lady excitedly told us that her father doesn't usually like seafood but had been won over by his freshly prepared lobster and was now coming back for more. I think her dad had the right approach. It was all there and much more besides so you really needed to pace your intake or you risked peaking too soon.
We saw the results a few tables away. A large party had got rather carried away and waiters were removing plates of untouched food, piled too high for comfort, along with glass upon glass of barely sipped wine and exotic looking cocktails. We began to wonder about the waste and if the staff were offered any of the food when service was over.
A family of five showed up near us but the father asked the waiters to seat them at a table for four. The Filipino nanny accompanying his wife and two young daughters was not included but quite what she was expected to do whilst the family sat down to eat wasn't clear. The elder of the two daughters was having none of it and remonstrated against the injustice, to no avail. When Daddy's back was turned she instructed the waiters to set another place. Girl power, wisely used.
What to wear at these brunches takes some thinking through. Judging from this first outing the smart casual idea is interpreted in a number of ways – some more successfully than others. The outdoor temperature and the larger than normal intake of food needs to be considered so comfort is important. There's a lot of trekking back and forth over highly polished floors for multiple helpings so tottering Louboutins are strictly for the ultra-confident diner. It is not particularly classy to be exposing more flesh than is displayed on the barbecue, though many do. By comparison, the woman who showed up robed in black to the ankles, a tuft of peroxide blond just visible beneath a black turban, made old-style Hollywood glam look effortless.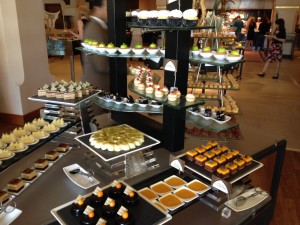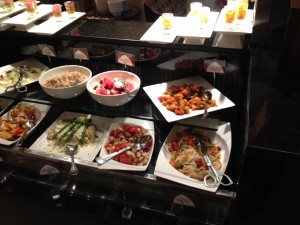 Back to the food and was this simply a case of quantity over quality? On this showing the simply done hot and cold seafood dishes and fresh off the barbecue meats were the tastiest of the lot. Less successful, was the too dense Yorkshire pudding (we had to try it) and the Chinese style duck which wasn't as tender as it should be. A couple of the prettiest desserts lacked the fruit flavour punch they promised but top marks go to the Opera Cake. Those layers and the creamy coffee flavour were up to Mary Berry's exacting standards.
With so much choice it feels churlish to point out these minor shortcomings but I will soon have something to compare it to. Brunch at the world famous Burj Al Arab hotel has been booked. Does brunch get any better than that? I'll let you know.